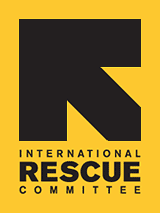 Since 1933, the IRC has provided hope and humanitarian aid to refugees and other victims of oppression and violent conflict around the world.
VOICES FROM THE FIELD
THE IRC BLOG
Pakistan: "It is our right to try to change our lives"
Rice farmers in Sindh Province wave IRC coupons that entitle them to a 50 pound sack of seed. Despite the smiles, many are extremely worried about flooding this summer.
Ned Colt/IRC
Sukkur City, Pakistan -
Pakistan is now at the start of the annual monsoon season, and there are concerns as to whether the country is prepared. In late June, the United Nations reported that as many as 5 million people could be displaced by flooding this year.
A possible sign of what's to come is the current heat wave in Pakistan; it has triggered the early melting of snow atop Himalayan peaks. Already Pakistan is seeing increases in the water flow of the Indus, the 2000-mile long river that bisects Pakistan. Some residents in Punjab and Sindh provinces have started to move their valuables to higher ground.
Sadly, many communities devastated by last year's floods have yet to be rebuilt; some damaged levees and washed away roads have not been repaired. As I learned in a recent visit to one of the hardest-hit provinces, many communities in these areas aren't prepared for another flood.

In June, as the heat wave in Sindh peaked at 124 degrees, I sat under a canvas tent in Sukkur City with a dozen men living in one of the last remaining flood camps there. Camps in this area house almost 350 families uprooted by last year's record flooding. Elders told me their lives have been irrevocably changed and that their struggle to recover is far from over.

They said in August of last year, the floods washed away everything -- their mud homes, crops, livestock, and identity cards. But they astonished me when they said the waters had also brought them an unlikely and unexpected gift -- their freedom. The men said that before the floods, they and their families were bonded laborers, essentially the property of Pakistan's big landowners. While bonded labor has been illegal in Pakistan for almost 20 years, it's been extremely difficult to eradicate. The United Nations has defined it as a form of slavery in which a person pledges their labor in exchange for a loan. Often, the interest accrues at such a high rate that the laborer ultimately owes more than can ever be paid off.
Sadly, children can be born into bondage too, because the debt is often passed on from generation to generation. Today, some reports suggest as many as four million of Pakistan's poorest and most vulnerable remain bonded laborers. Large numbers of them, like those I met with, work in agriculture.

With no food or clean water, the laborers I spoke with fled to Sukkur City -- higher ground in Sindh that was largely spared the devastation of the massive flooding. There, the IRC and other aid agencies supplied broad support, some of it in the form of legal information. The IRC provided assistance with applying for new identity documents and an understanding of what types of support the families were eligible for. They also learned about property and civil rights.

So it wasn't surprising that in late winter, when they were told it was safe to return to their homes, they chose not to. The government had offered free transportation and two months of food, but the 350 families decided against it, for numerous reasons.

Many are fearful that this year's monsoon will bring more flooding. Others fear a resumption of communal violence between tribes, as well as "honor killings." There have also been reports of landowners seizing the laborers' food assistance. In other cases, where the international community had rebuilt laborers' homes, the landlords claimed them as their own, displacing the workers yet again. One UN official I spoke with said some landlords claimed that since the homes were on their land- they owned them.

However, many of those I spoke with now feel more empowered. As they learned of their rights under Pakistan law, they realized that indentured servitude was illegal. In many cases, the laborers decided not to return home simply because they refused to relinquish their new freedoms.

The men I spoke with said instead of returning, their families were moved from the government-run camp to a vacant lot across the road. They have now been there for 4 months, and say they are no longer receiving assistance of any sort.

"We want to change our lives." One of the men told me. "Back home, our children are already in the 4th grade but can't even write the alphabet." He continued, "We have learned that we are not someone else's property, and it is our right to change our lives." The families are now working together to petition for a life free from bondage.

This was just one of hundreds of communities throughout Pakistan that are still struggling to recover from last year's devastating floods. As the Pakistan government and local and international relief organizations scramble to prepare for this year's flooding, we can't forget those still in need of our support. And we need the international community to recognize and support them too.
Renata Rendón is an IRC regional advocacy officer, based in Pakistan
No comments yet.