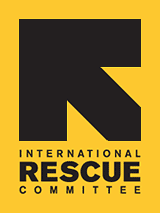 Since 1933, the IRC has provided hope and humanitarian aid to refugees and other victims of oppression and violent conflict around the world.
VOICES FROM THE FIELD
THE IRC BLOG
"Marginalized People" - Ann Jones in Liberia

January 14, 2008
By The IRC
Once women chosen for the Global Crescendo project receive their cameras and some basic "point and shoot" instructions, they hurry outside to practice.  Left to right: Patience Walker, Kulah Barbor, and Rebecca Freeman take their first shots. Photo: Ann Jones
The International Rescue Committee is working with women's advocate Ann Jones to help women in war zones — survivors of conflict, displacement and sexual and domestic violence — use photography to make their voices heard. Ann is blogging the year-long project from West Africa. If you're just joining us, you can read her first series of posts from Cote d'Ivoire at theIRC.org/16days. The story continues in Liberia, where Ann is posting updates and photos on Mondays and Thursdays into February here at theIRC.org/blog Monrovia, Liberia  Many analysts attribute Liberia's civil wars to "the emergence of a class of marginal young people."  By "people," of course, they mean "men." What made them "marginal"?  If you read last week's history lesson you know that for as long as anyone can remember, rich and powerful men bought lots of wives.  They forced the wives to labor.  And by monopolizing women, they forced young men—with no wives, no decent jobs, no land, no prospects—to labor as well.   Young men worked themselves into a murderous rage.  They joined rebel militias and destroyed the country and raped a lot of women along the way. That's the popular theory.  What's odd is that nobody expects women to run amok with AK 47s.  Liberian women have always been exploited by men—rich and poor alike.   So why don't these female "marginal people" get mad?  Have they been so traumatized by political and personal violence?  Have they passed beyond rage to despair? That's what's on my mind as we bump over the ruts and potholes of Monrovia's dusty red roads toward Bardnersville.  There we've scheduled a meeting with ten women from eight different communities in urban Monrovia and Montserrado County, all chosen by their IRC-sponsored Women's Action Groups to take part in the Global Crescendo project.
First time photographers Finda Saah and Mantina Capard help each other out. Photo: Ann Jones

I'm especially eager to meet them because I've already heard about the well-organized women of Liberia who promote women's rights and campaign against violence against women.  In many communities, IRC GBV also organizes men's action groups known by the acronym: MAPEVAW—Men as Partners in Ending Violence Against Women.   We meet the women at a junction where a dirt track leaves the main road.  They pack themselves into the back of the IRC vehicle like sardines volunteering for the can.  One woman of generous size joins me in the front seat, and we strap ourselves into a single seatbelt, instantly intimate friends.  Together we bounce the last few miles to the brand new, bright blue Bardnersville Women's Center, built with IRC and community support.Once we get acquainted, I ask each woman to tell us what particular "action" her action group focuses on.  What they say surprises me. The Central Monrovia group helps school dropouts, but they want to learn new skills to increase their earning power. The women of Bushrod Island focus on "economic activities."  Women from Chicken Soup Factory—a community named after a defunct Maggi bouillon cube plant—are learning hairdressing.  Paynesville women are learning to sew—by hand because they don't have sewing machines.    Women from West Point and Slipway and Topoe Village want training in new skills such as tie-dying and soap-making, popular with NGOs. (Some women confess they already learned these skills in one NGO training program or another; but the course ended, the NGO went away, and they were left with forgettable skills and no material to start up their new "livelihood.") When every woman has spoken, it occurs to me that not a single word has been said about violence against women.  Yet when the IRC surveyed Liberian women in 2006, 95 percent of women in Montserrado County named violence against women as their number one problem.  In rural Nimba County, 93 percent of women said the same—and all without prompting.  Have things improved so much, I wonder.  So I ask them, "Is there any violence in your communities?" Heads nod all around the room.  "Yes," they say.  "Of course."  They begin to talk of rape and wife beating and abandonment and the mental violence of abuse, insult, public humiliation, and the like.  They tell me that an IRC GBV social worker works with every action group, offering psychosocial counseling and advocacy to women survivors of violence.  Some say their action group visits wife beaters at home to raise their "awareness" or impose a fine.  Sometimes they report wife beaters to the community leadership, or the police.
Finda Saah's first photo is this one of the new Bardnersville Women's Center. Photo: Finda Saah

The stories add up to a great deal of violence, and a great deal of effort to combat it.  I wonder—as I hand out digital cameras and run through basic instructions—why didn't they mention violence in the first place? Their silence on the subject suggests the depth of the wounds they've suffered in the long wars and after, and it seems to me a kind of resignation.  They see violence, they work against it, yet it goes on, always.  Survival is what counts right now.  So what do you do in your action group?  Better to get on with earning a living.  When your husband won't give you any money, when he beats you up and abandons you and the children, you'd better know how to make soap. "Marginalized" men get in a rage when life treats them this way.  Women just get on with it, trying to feed the children.  The well-organized women of Liberia, I see, have a long hard road ahead.