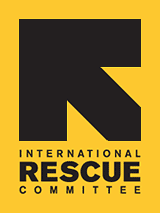 Since 1933, the IRC has provided hope and humanitarian aid to refugees and other victims of oppression and violent conflict around the world.
VOICES FROM THE FIELD
THE IRC BLOG
16 Days - Day 2: Cote d'What?

November 26, 2007
By The IRC
A woman enters the Basilique de Notre Dame de la Paix in Yamoussoukro for Sunday morning mass. The basilica, a replica of St. Peter's in Rome, best exemplifies founding father Houphouet-Boigny's aspirations for his country.
A woman enters the Basilique de Notre Dame de la Paix in Yamoussoukro for Sunday morning mass. The basilica, a replica of St. Peter's in Rome, best exemplifies founding father Houphouet-Boigny's aspirations for his country. It was consecrated by Pope John Paul II in 1989. Photo: Ann Jones
The International Rescue Committee is working with writer, photographer and long-time women's advocate Ann Jones to give women in conflict zones an opportunity to document their own lives and make their voices heard. Ann is blogging from West Africa, posting new photos and stories each day for 16 days starting Sunday, November 25 — the kick-off of "16 Days of Activism Against Gender Violence." Catch up on earlier posts here. Let me refresh your memory about Cote d'Ivoire. (No offense, but if you're anything like my highly intelligent and exceedingly well informed friends, you don't have a clue where I am.) Cote d'Ivoire is one of the biggest countries in West Africa, just about the size of Germany. It lies on the Gulf of Guinea, sandwiched between Liberia and Guinea to the west, Ghana to the east, Mali and Burkina Faso to the north; and for decades it has drawn a large part of its population from its neighbors. In English, of course, it's "Ivory Coast"—named for the treasure of its vanishing elephants.
The grass swallowing Cote d'Ivoire's once fine highways is a sign of the country's hard times.The narrowing roadway is hazardous, especially for women and children who travel on foot.Photo: Ann Jones After gaining independence from France in 1960, Cote d'Ivoire became Africa's rising star—one of the most prosperous countries on the continent. Beautiful, modern Abidjan became "the Paris of Africa." And because President Houphouet-Boigny stressed agricultural (not industrial) development, the good times spread throughout the nation of small farmers. Then came worldwide recession in the early 1980s, accompanied in Cote d'Ivoire by drought. The economy went into decline only to be kicked further downstairs by IMF-imposed "structural adjustment." Farm prices were cut in half, teachers and civil servants laid off, natural resources snatched away—almost half the virgin rainforest in a single decade thanks to an $80 million World Bank "environmental" loan, which in turn required more "adjustment" and more loans to pay the interest. By the time "the old man" Houphouet-Boigny died in 1993, Cote d'Ivoire was in hock for about $1.5 billion. The middle class morphed into poverty.
Village women who walk to markets and health clinics complain of extortion, harassment, and rape at police and military checkpoints that still obstruct Cote d'Ivoire's roads. Photo: Ann Jones The story since that time is all about political power plays—dodgy elections, coups and counter coups, successful and not, and ambitious politicians stirring ethnic conflicts where none existed before. Human Rights Watch reports that "politicians exploited ethnic divisions to oust political rivals in elections, using the state apparatus to repress opponents and incite hatred or fear among populations that had lived in relative harmony for decades." The ultra-nationalist definition of pure "Ivoirite" became the wheel upon which immigrants and minorities were broken. Then there's the widening breach between the Christian south, the seat of government, and the neglected, impoverished Muslim north.
Women with produce to transport to market complain that checkpoint soldiers interfere with their right to make a living. Extortion cuts their earnings. Fear of rape blocks their access to more profitable urban markets. Photo: Kasso Roseline In September 2002, northern rebels tried, and failed, to overthrow President Laurent Gbagbo, and the country fell into war. French, African, and later U.N. peacekeepers stepped in, and a peace treaty of sorts was signed in 2003. More than 11,000 international peacekeepers monitored a buffer zone—the Zone of Confidence—running the width of the country east to west and separating the opposing forces. But the country had already been torn apart by violence such as peaceable, tolerant Cote d'Ivoirians had never known. Now, in the midst of continuing tension and rising poverty and a series of peace treaties—issued annually—it is still trying to put itself back together. It exists, as so many countries do these days, as a "post conflict" zone. It is neither at war, nor at peace.
Soldiers supposed to protect civilians can be very threatening, like these who tried to seize my camera after I snapped this shot from an IRC vehicle. Photo: Ann Jones The fifth anniversary of the beginning of the conflict—September 19—passed without apparent incident. A day like any other. Here in Yamoussoukro, the administrative capital, it was hot, humid, overcast from time to time with clouds that gathered at dusk and rain that drenched citizens coming late from the markets. President Gbagbo was in New York, preparing to announce on September 25 on the floor of the UN General Assembly that the war is now well and truly over. But when is war "over"? The IRC, having worked in Cote d'Ivoire from 1994 to 1996, returned in 2003 to respond to the humanitarian crisis caused by the influx of Liberian refugees fleeing civil war next door. It remained to work on the fallout of Cote d'Ivoire's home-grown conflict. There is plenty of work to do, and much of it concerns women who have been the principal casualties of the violence. I'll tell you more next time about what IRC is doing for them.
Sign up to get an e-mail alert when Ann posts a new blog. Go to: theIRC.org/join16days