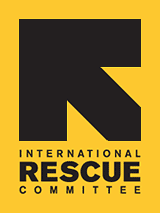 Since 1933, the IRC has provided hope and humanitarian aid to refugees and other victims of oppression and violent conflict around the world.
VOICES FROM THE FIELD
THE IRC BLOG
16 Days - Day 7: Teamwork

December 1, 2007
By The IRC
At a meeting hall in the village of Zokoguhe, IRC field officer Gbozie Marie Chantal translates photo instructions into a local language.
At a meeting hall in the village of Zokoguhe, IRC field officer Gbozie Marie Chantal translates photo instructions into a local language. Photo: Ann Jones
The International Rescue Committee is working with writer, photographer and long-time women's advocate Ann Jones to give women in war zones an opportunity to document their own lives with digital cameras and make their voices heard. Ann is blogging from West Africa, posting new photos and stories each day for 16 days, starting November 25 — the kick-off of "16 Days of Activism Against Gender Violence." You can catch her earlier posts here and sign up to get e-mail alerts about new posts at theIRC.org/join16days. Yamoussoukro, Cote d'Ivoire Voila! Le appareil photo! I produce my shiny little point-and-shoot camera and hold it aloft for display, like a nice fat chicken. It's our second meeting in the village, our first exclusively with the group of sixteen volunteers for our photo project. We're meeting under the thatch of a small open air assembly hut, the women seated on benches around me. The younger women have brought their babies, bundled on their backs. I can see they are worried. A week later, they will confess that at this moment they were scared. Intimidated by the tiny machine—the sort of gizmo men reserve for themselves—they feared they couldn't do what they would be asked to do. And that, as I come to understand, is a terrible fear for village women.
In the village of KoupelaTenkodoko, anxious women puzzle over the cameras before setting out to take their first photographs. Photo: Ann Jones As wives they are told every day to do things they might not have the time or strength to do, let alone the inclination. Failure brings punishment. Men beat their wives for failing to produce dinner on time, failing to wash the clothes, failing to sell tomatoes, failing to stay at home, failing to go to the field to work. The list is endless. And men beat their wives for small acts of assertion: for going to visit a neighbor, for answering back, for being tired or "lazy." Men refer to wife beating as "education." Men say that "educating" the wife in proper conduct is a great responsibility for the husband. One man tries to enlist the help of the GBV team, saying women need less talk about their rights and more about their bad behavior.
A village photo team at KoupelaTenkodoko takes its very first shot. Yougoubare Veronique holds the camera, assisted by Baliman Safiatou and other members of the squad. Photo: Ann Jones As I prepare to hand out the cameras, I'm worried too. I have only five cameras for sixteen women, and there will be the same shortage in two other villages where we're working. The problem is the budget. "I'm so sorry," I say. "You will have to share." I worry that our inability to give each woman a camera is a big mistake in our strategy. It will turn out to be the best mistake we make. I ask the women to arrange themselves in groups of three or four—each group an "equipe photo," a photo team. Then I give each team a kit consisting of a camera in a soft case, four rechargeable batteries, and a charger. When I ask them to take out the cameras, one woman in each group gingerly does the job while the others clutch the rest of the gear. I hold my breath as I watch the tiny fragile cameras swallowed by big, calloused hands. Then a young woman passes a camera to her team mate as she swings her baby off her back and onto her breast. Her work-worn hand, ever so gently, offers a nipple to the child.
The photo team happily reviews its work. Photo: Ann Jones For the next hour I take them step-by-step through only the most basic operations of the camera. Strictly point and shoot. I finish by giving each woman her own personal photo card to use each time she has possession of a camera. We practice taking the cards in and out. Then I send the teams out to take photos. They huddle to consult with each other about the cameras. Is it this button, or that? How hard must I push?
Here's the team's first shot. Baliman Safiatou gets the credit for pushing the button. Photo: Baliman Safiatou The first team finds a subject. One woman holds the camera firmly, as I've taught them, and points it. All heads converge at the viewing screen. What next? A teammate reaches over the camera-holder's shoulder to depress the shutter button. An icon appears on the screen to indicate whether the subject is in focus. "It's green! It's green!" say the team mates. "Push! Push!" The button-pusher's finger comes down. "Click!" The women scream. They jump up and down. They throw their arms around each other while the camerawoman holds the tiny camera aloft for safekeeping. Such good teamwork, as we'll see, may be put to other uses.