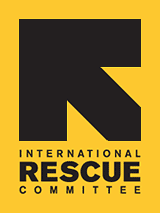 Since 1933, the IRC has provided hope and humanitarian aid to refugees and other victims of oppression and violent conflict around the world.
VOICES FROM THE FIELD
THE IRC BLOG
A new way to heal / Boise

September 11, 2008
By The IRC
Artwork created by a child resettled by the IRC in Boise Photo: The IRC
The IRC's Boise office is helping refugee children cope with mental anguish and trauma in a new program that combines art therapy and a psychotherapy technique called Eye Movement Desensitization Reprocessing, or EDMR.  The program gives small children who have fled war and persecution a chance to work through traumatic memories without actually having to talk about them. IRC Boise resettlement director Leslye Boban told The Boise Weekly that she hopes the program can one day be used to help adults cope with trauma too.  "We're working with a counseling group to also do the same technique with the parents, because you can't work with the kids and open them up like that and go home to a chaotic, unstable environment."
No comments yet.