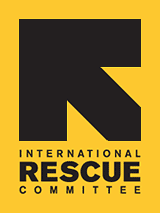 Since 1933, the IRC has provided hope and humanitarian aid to refugees and other victims of oppression and violent conflict around the world.
VOICES FROM THE FIELD
THE IRC BLOG
Adapting to the local environment / Chad

October 24, 2008
By Joanne Offer
Here's a photo share from Joanne Offer.  Joanne is currently traveling in eastern Chad, near the Sudanese border, where the IRC helps around 60,000
Darfuri refugees
in two camps as well as local Chadian communities:
  The IRC health center in Bredjing refugee camp, eastern Chad, has seven ambulances to rush people for treatment – all donkey-driven! The donkeys can easily get in between the estimated 5,000 tukuls (huts) in the camp and are by far the most common form of public transport in the area. The IRC's donkey ambulances are split into two shifts – four during the evening, and three during the day. Here driver Arbab Abdallah takes his steed out in the early morning. The IRC's four jeeps in Bredjing are all numbered Mobile 1, Mobile 2 and so on. So the staff have lovingly named the donkeys Mobile Zero, a reference to how fast they do (or don't) travel.
You can read all Joanne's posts
here
.
No comments yet.