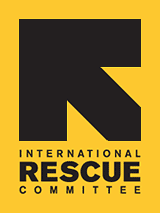 Since 1933, the IRC has provided hope and humanitarian aid to refugees and other victims of oppression and violent conflict around the world.
VOICES FROM THE FIELD
THE IRC BLOG
After Isaac's deluge: Shelter, malaria and cholera biggest concerns in Haiti's camps
These women were among hundreds of thousands of Haitians who rode out Tropical Storm Isaac in tents and makeshift shelters.
Photo: Emily Bishop/IRC
As rain continued to fall on Haiti last night in the wake of Tropical Storm Isaac, I caught up by email with International Rescue Committee country director Miriam Castaneda, who is based in the capital, Port-au-Prince. She and her team had just returned from inspecting storm damage and assessing urgent needs in some of the crowded camps that shelter hundreds of thousands of Haitians who lost their homes in the 2010 earthquake. Miriam kindly took time to answer a few questions about what she found there:

What is the extent of the damage in the camps?
We saw a lot of damage, but the overall situation is better than was expected – the damage was basically due to the winds. It is still raining and that is an issue of concern: The soft and steady rain leads to mudslides and we are watching that. The rain can also hinder distribution of emergency supplies because of the bad road conditions.
What do camp residents need most at this moment?
Shelter materials: tarps, wood, rope. However, when the rain stops, stagnant water will be a breeding ground for mosquitoes — so they will also need mosquito nets, especially children under five and pregnant women, who are the most at risk of contracting malaria.
Clean water and water purifying products are also required, to prevent a cholera outbreak. And lastly but not less important, they need to have the sanitation facilities rehabilitated and latrine pits emptied to avoid the overflowing of waste. All of this has to be paired with educating the community about good hygiene practices and other ways to help prevent the spread of disease after the storm.

What are the IRC's plans to deliver emergency assistance in the camps?
We plan to start distributing emergency supplies tomorrow once the camp resident committees give us the green light that conditions are safe. We will be coordinating with the United Nations and our partners who are part of Haiti's National Disaster Response system to avoid duplication of efforts.
Learn More
Help Haiti