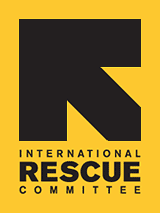 Since 1933, the IRC has provided hope and humanitarian aid to refugees and other victims of oppression and violent conflict around the world.
VOICES FROM THE FIELD
THE IRC BLOG
Celebrating the season -- and a new life

December 29, 2008
By The IRC
Guest blogger Emily Martin is the International Rescue Committee's external relations manager, based at our New York headquarters.
  Women in bright blue saris hovering over platters of coconut chicken and seafood paella ...  A group of people dancing expert, New York-style salsa...  Children from countries across the map sitting together, drawing in coloring books and filling out "Christmas Sudoku"...   As soon as I walked into the IRC's annual celebration for
refugees in New York
, held at IRC headquarters right before Christmas, I knew was going to be unlike any other holiday party I'd ever attended. I needed to find someone who could help me get my bearings.  I spotted 18-year-old Kadidja Ata, who came to last year's party just a few months after she arrived in New York as a refugee from the
Central African Republic
.  Kadidja started out in an IRC summer school program, working hard to get used to a new country and a new language.  Now she is an IRC peer tutor, helping newly arrived refugee students adjust to school in the United States.  "When I was first here, I was excited to be in the U.S. though I didn't speak any English," Kadidja told me.  "Now, I look at my students and see they were like me.  They also have it hard, but I can see they enjoy it." Out of the corner of my eye, I saw Mohammad Hashem, a college student from Iraq who arrived in July.  I recognized him immediately from the IRC's
First Thanksgiving dinner
on November 20.  At the dinner, Mohammad
told a USA Today reporter
, "I have no job. I am lonely, but I'm in New York where I always wanted to be. I'm safe."  Only a month later, he has already come such a long way, working for a theater in Manhattan's Chelsea neighborhood.  He told me how excited he is to have the position – "I was really really struggling before I got that job.  I'm so lucky." The DJ started playing Bollywood music and a circle of onlookers formed around a small group of
Bhutanese Nepalese
boys, dancing passionately to the beat.  Parvat Chapagai, 15, was one of the stars on the impromptu stage.  Parvat had arrived in the U.S. with his parents only days earlier, IRC youth program director James Lenton told me.  Although Parvat was born in a refugee camp, his father — who worked as a paramedic — was able to send him to school outside the camp.  Thanks to that head start, James said, Parvat will have a good chance of succeeding in the New York public school system.  He told me that Parvat excels in math and hopes to study Web design.    I asked James how the party was going.  "It's great to see young people from different backgrounds having fun together," he said.  "It gives them a real sense of a larger community."   After a performance by Sengalese singer and refugee Papa Yoro Mbaye, and another round of dancing, Santa Claus made a special appearance with a promise of gifts for every refugee child at the party.  To the tune of "Whatta Man" by En Vogue, he made his way into a circle of perplexed (who's Santa Claus?) but excited kids, who jumped up and down and joined him as he sang.  In a flurry of excitement, Santa asked them the question of the night, shouting, "Did you have a good year?" The kids responded with a resounding, "Yes!" [gallery]
No comments yet.