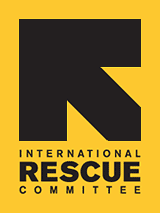 Since 1933, the IRC has provided hope and humanitarian aid to refugees and other victims of oppression and violent conflict around the world.
VOICES FROM THE FIELD
THE IRC BLOG
The challenges of living with HIV/AIDS in northwestern Kenya

January 19, 2010
By Joanne Offer
Raising awareness about HIV/AIDS on World AIDS Day.
Photo: IRC
LODWAR, Kenya -
Elizabeth (not her real name) remembers the first day she went to be tested for HIV. "It was frightening and I walked up to the door of the testing center but I didn't go in," she admits. On the second day, Elizabeth managed to pluck up the courage to be tested and discovered she was positive. However, she didn't believe it and went to a second center where she received the same positive result.
"When I found out it was true, I fasted for three days," says Elizabeth. "I asked God to give me the strength to continue, then I went to the hospital and got ARVs."
Elizabeth, 38, lives close to Lodwar Town in northwest
Kenya
. Today, she leads a group of about 40 women who are all living with HIV/AIDS. "We give support to our members, like income-generating activities," explains Elizabeth. "We write proposals to NGOs (humanitarian aid organizations) and try to get funds, for example to set up small businesses selling vegetables or household goods."
Elizabeth says the women battle stigma in their community: "Community members are not very supportive to people living with HIV/AIDS . They would only refer a patient to our group; they wouldn't take the patient to hospital for treatment. It would be our group who takes them for treatment. And us who would organize the burial if they die."
Elizabeth is a widow whose husband passed away in 2004. A year later, she started to become sick herself, but didn't know what was happening. "I'd heard people say that my husband died of HIV," says Elizabeth, "and I wondered what that was. No one talked about it with me. I became concerned and when I finally heard about the test I decided to go for it."
Today, she is determined that other women shouldn't have to face the same situation. Elizabeth and her colleagues go from house-to-house in their community trying to talk to people about HIV/AIDS. They speak at community meetings and encourage people to know their HIV status.
Elizabeth is also keen to remind the world that her community needs support, especially given the regional drought and resulting food crisis that predominated throughout 2009.
She says: "I would like NGOs to support us with nutrition specifically for people who are taking ARVs. My experience here in Lodwar is that people won't take ARVs if they don't have food. The ARVs are strong and you don't feel comfortable if you take them on an empty stomach."
Elizabeth sells clothes in town to raise money for her six children. She says she hasn't told her children about her positive HIV status, because they are too young and she doesn't want to worry them. "They are in school and they won't concentrate properly if they know," she adds.
The family has faced hard times since the death of Elizabeth's husband. She sold off many of their possessions to raise money for food and school fees, and they recently had their water cut off when she couldn't pay the bill.
But Elizabeth firmly believes that all teenagers and adults should know their status.
"I believe all of us should know our status. It's surprising that health workers tell us to find out but many don't know themselves.
"There's a lot of stress as a single parent," says Elizabeth. "It's very stressful finding food for my children as the prices are very high in the market. Right now, we are desperate."
No comments yet.