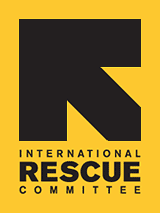 Since 1933, the IRC has provided hope and humanitarian aid to refugees and other victims of oppression and violent conflict around the world.
VOICES FROM THE FIELD
THE IRC BLOG
Chef David Burke talks New Roots on The Weather Channel [Video]

July 24, 2012
By The IRC
Chef David Burke on set at The Weather Channel this morning, where he spoke about the IRC's New Roots program and shared his own recipe, using fresh produce from an IRC garden.
Photo: IRC
This morning, Chef David Burke appeared live on The Weather Channel to speak about New Roots. During his time on the air, Burke recreated a recipe he first developed while at Drew Gardens, an International Rescue Committee New Roots garden in the Bronx. Using freshly picked produce grown by refugee gardeners at Drew, Burke showed host Stephanie how to make a luscious salad of peaches, fennel, tomatoes and greens.
We're grateful that David Burke, along with other celebrity chefs, IRC voices and countless other advocates, are spreading the word about the IRC's New Roots program, which helps resettled refugees in the United States connect with their new home through community gardening, microenterprise training and nutrition classes.
The interview aired early this morning on the Weather Channel website. Watch it below.
No comments yet.