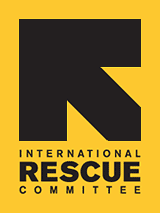 Since 1933, the IRC has provided hope and humanitarian aid to refugees and other victims of oppression and violent conflict around the world.
VOICES FROM THE FIELD
THE IRC BLOG
A Christmas welcome in Wichita

December 24, 2012
By The IRC
The IRC's Andrea Gardner with Renad, a young refugee from Sudan who's showing off her new pink pajamas and sunglasses — Christmas gifts from Andrea's family.
Photo: IRC
By: Andrea Gardner, International Rescue Committee case worker in Wichita, Kansas
"Why buy gifts for people who already have plenty when there are so many who do not?"
That was the question circling the Thanksgiving table this year as my family began to talk about what to do for Christmas. Instead of exchanging gifts, we started a tradition that I hope will continue as the IRC's new
refugee resettlement
office in Wichita grows.
In celebration of their families' first holiday season in America, the 16 children the IRC has resettled in Wichita received a special gift.
With my mother as the lead, my grandmother, aunts, uncles and cousins volunteered to fill 16 stockings with age- and gender-appropriate items for each child. The stockings had fun surprises like toys, puzzles and books — but also more practical items such as socks, gloves, pajamas and toiletries. Each stocking also included a $10 Walmart gift card, so that each child could go pick out something special!
I believe this small gesture made these refugee families feel welcomed in their new home. But it was also a blessing to my family to be a small part of making these families' first holiday season in Wichita special.
No comments yet.