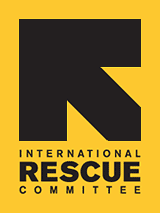 Since 1933, the IRC has provided hope and humanitarian aid to refugees and other victims of oppression and violent conflict around the world.
VOICES FROM THE FIELD
THE IRC BLOG
Congo: Deeper into the Jungle [Voices from the Archive]
Peter Biro (left) with Congo mortality team leader Maxim Bushiri (on the back, right) and Rafael Jedi. Photo: Peter Biro/The IRC
The International Rescue Committee's Peter Biro spent two weeks on the road last summer with IRC mortality survey teams in the Democratic Republic of Congo. A previous IRC survey found that nearly four million people have died from war-related causes in Congo since 1998--making it the world's deadliest documented conflict since WW II. The new study about to be released shows the numbers steadily rising.
Part 1 l Part 2: Deeper into the jungle - Kalima to Misoke l Part 3
Having eventually made it to Kalima following an emergency stop at Maloani Isungo's house in the small village of Kio, we were ready for the next leg of our journey. The IRC mortality survey team has randomly picked a village called Misoke, where the population will be interviewed about their health and any recent deaths in their households. There are no maps available, but we are joined by Merveille Njolombe, a local health official, who will guide us through the bush.
"It will take many hours to reach our destination," he says vaguely as he kick-starts his motorbike.
Once again we have to cross a river before we can start our trip in earnest. The Ulindi, a tributary to the Congo River, used to separate two of the main combatants in this region: the dreaded Mai-Mai militia and the Rwanda-allied rebel Rally for Congolese Democracy (RCD).
"The Mai-Mai used to cross here to attack the RCD who used an airstrip near Kalima," Merveille says as our canoe, unsteady by the weight of our three motorbikes, follows a lazy current to the opposite river bank.
"For a long time it was impossible to cross this river because Mai-Mai controlled all villages on the other side."
As we unload the motorbikes, the boatman shakes his head.
"You will fall a hundred times," he grins. "The road is very, very bad."
He is right. The next ten hours prove to be a seemingly never-ending ordeal across an extremely bad jungle road. We are sliding around in mud, lifting the bikes over large fallen trees and balancing them precariously over wild rivers. These crossings become the curse of the journey. Each obstacle seems hazardous and countless times I have to jump off the bike and push it across. It is easy to understand why motorbikes bigger than 125cc are seldom used here; they would simply be too heavy and cumbersome to drive and lift through this terrain.
Driving for hours without hardly any sign of life, we eventually come across a little clearing where a small group of people are cooking meat over a coal fire. We stop and are soon invited for lunch. A woman introducing herself as Azama lifts the lid of the boiling pot and I find myself staring down at three monkey heads, facial expressions frozen in an agonizing scream. They are the local macaque variety, I am told, cooked in palm oil, tomato and pepper and served with fufu, the local staple made from mashed cassava.
"The animals are fresh, I shot them today," Azama's husband Kingombe says, showing me his homemade shotgun.
It tastes much like beef, but stringier. As we continue our journey, the track gets narrower and narrower with each passing kilometer. It is as if the forest devours everything in its path here. I am caked with mud and the jungle vegetation whips me in the face and arms from both sides of the path. Thick vines keep getting stuck on my feet or on the bike's footrests and the sound of the cicadas grows increasingly ear-splitting as we penetrate the bush. Everything seems to be alive in the Congolese forest; we pass through clouds of large, colourful butterflies, and birds and monkeys screech in the canopy.
Suddenly, Merveille hits the brakes just in time for me to see the thick end of a menacing-looking snake sliding into the undergrowth.
"Black mamba," he says, referring to one of the deadliest reptiles in the world.
Just as I am beginning to think that we might make our destination before sunset, we are forced to drag the bikes through a large, black, mosquito-infested swamp. It takes over an hour to move three motorbikes less than 200 meters. It is situations like these that makes one understand that seriously ill patients in Congo often actually die en route before they can reach proper health care. Patients are typically carried on homemade stretchers, sometimes for days, on small jungle paths like these, before they get to a doctor.
Finally, after a full day of gruelling dirt road, reach Misoke. Darkness is already upon us and the lack of electricity makes the moon and the stars glow in the calm still night. A group of villagers gather around us and we are soon offered a bed in a small hut. Exhausted, I fall asleep with my clothes on.