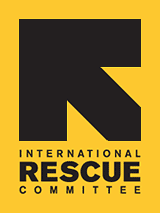 Since 1933, the IRC has provided hope and humanitarian aid to refugees and other victims of oppression and violent conflict around the world.
VOICES FROM THE FIELD
THE IRC BLOG
Eliza Williams, 40 Years with the IRC

October 22, 2007
By The IRC
Photo: The IRC
Eliza Williams, gift planning specialist with the International Rescue Committee's Development department, retired just a few weeks ago after celebrating 40 years with the IRC. I interviewed Eliza earlier this year for an IRC staff newsletter: Eliza Williams, the longest serving member of the IRC's worldwide staff, celebrated 40 years of service with the IRC on February 16, 2007. "All the jobs you can think of, I have done them," Eliza said. Eliza started in the fundraising department at the IRC's office at 460 Park Ave, New York  in 1967. Later that year, the IRC relocated its offices to 386 Park Ave. About that time Al Kastner, a current IRC overseer, started as head of the fundraising department and became Eliza's supervisor. "Eliza has been an IRC mainstay and valuable staff member, and she has played an important role in our institutional history," Kastner said. "She started at the IRC the same year as I did and is still going strong." When she started, Eliza said that the much smaller IRC felt more like a family. Initially as part of her job, she had to learn how to use the plug switchboard. Donor information was entered by hand and kept on 3 x 5 cards in tiny file cabinets. Among many other tasks, she kept track of print supplies provided by P. Holzer Associates, the same printer the IRC uses today for its annual reports.  "The IRC has grown tremendously," Eliza said. "It gives me great pride that we've evolved so much in helping people regain their pride and health and to start new lives for themselves and their families." She vividly recalls, for example, the arrival of the boat people – refugees from south Vietnam who fled their homeland by boat. Eliza jokes that she'd better be fond of work, since she has stayed for over 40 years and seen so many great colleagues come and go. Sometimes at the start of the workday in her early years, Eliza would meet newly arrived refugees waiting in the reception area, so grateful to be safe. She said she has handled plenty of babies in the office. "There have been so many wonderful people; kind, considerate, concerned who have helped refugees improve and maintain a better lifestyle, where they can be happy, safe and healthy," Eliza said. "It's fulfilling in knowing what you do is so good." Eliza also speaks fondly of seeing the start and growth of the Women's Commission, which was initially a single desk occupied by Mary Ann Schwalbe, who is now an IRC overseer. Originally from Nichols, Florida, Eliza is the oldest of 11 children. She graduated from Union Academy High School in Bartow, Fla. After living in Hollywood, Fla., she decided to make a fresh start by moving to New York. She went to the New York Business School and graduated in 1964. Eliza resides in Flushing, New York. She keeps busy in her free time as a member of the Order of the Eastern Star, a social organization, and the Daughters of the Sphinx, a sisterhood to the Masons. As a member of the Mt. Olive Baptist Church in Hollis, Eliza volunteers at a veterans' hospital and a homeless shelter. An avid reader of anything and everything, she also enjoys sewing, photography and travel. She has two daughters and one grandson. Her constant companion is a pet Shar pei named Dutchess. "I enjoy life and friends and have done a number of interesting things in life," Eliza said. "I like staying busy and happy and working here at the IRC with old and young colleagues alike because we do such great work and I am proud that we have helped so many." Eliza said she's not thinking about retiring just yet. She added that she is glad to be on the verge of surpassing the 40-year-service-record of Lois Kirschenbaum, IRC legend and former receptionist, but unlike Lois she would like to retire before age 71.
No comments yet.