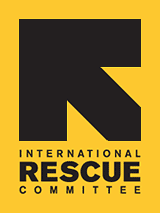 Since 1933, the IRC has provided hope and humanitarian aid to refugees and other victims of oppression and violent conflict around the world.
VOICES FROM THE FIELD
THE IRC BLOG
Escalation of Mali conflict threatens civilians, hinders aid

January 25, 2013
By The IRC
The conflict in Mali has displaced over 350,000 people and has had a devastating impact on children who are suffering from growing malnutrition.
Photo: Peter Biro/IRC
BAMAKO, Mali -
The escalation of armed conflict in Mali is having grave consequences for civilians already suffering the effects of political instability, mass displacement and severe food shortages.
Nine months of fighting between Malian forces and militants has displaced an estimated 360,000 people from their homes. The unrest and ongoing political instability in Mali is compounding the impact of
2012's punishing drought
that has left more than 2 million people in the country without enough food.
"People continue to flee their homes, most of them women and children," says Tasha Gill, who oversees the International Rescue Committee's humanitarian aid programs in Mali. "Communities taking in displaced families have been very generous up until now, but their resources are rapidly depleting and they have little else to offer."
Tens of thousands of other families are facing prolonged displacement and as fighting continues, reaching them with life-saving support is difficult. Uprooted children, especially, have become more vulnerable to malnutrition and other dangers, including separation from their families.
Gill says it is imperative that the international community, the Malian government, and all actors in the conflict prioritize protection of children and their families caught in conflict zones.
"The escalation of the conflict is quickly multiplying the numbers of families at risk and vulnerable," says Gill. "Malians urgently need food, shelter, health care, and other critical elements of survival and humanitarian aid agencies must have the resources and access to respond to the growing crisis."
UPDATE - February 4, 2013: The IRC joins other humanitarian organizations in calling for human rights monitors from the United Nations, the European and African Unions, and the Economic Community of West African States (ECOWAS) to be sent to Mali to protect civilians at risk due to ongoing political instability.
No comments yet.