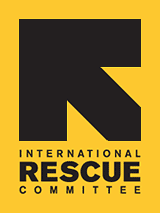 Since 1933, the IRC has provided hope and humanitarian aid to refugees and other victims of oppression and violent conflict around the world.
VOICES FROM THE FIELD
THE IRC BLOG
A garden grows in the Bronx

December 12, 2012
By The IRC
Ah Lun, a refugee from Myanmar, accepts a key to the front gate of Drew Gardens from Lisa Brochet, a New Roots program manager in New York. Ah Lun grows chili peppers, garlic and onions on his garden plot.
Photo: Donna Alberico/IRC
By Sarah Bright
On Thursday mornings in spring and summer, at a busy intersection on East Tremont Avenue in the South Bronx, refugees from around the world gather at one of New York City's hidden gems—Drew Gardens—where they spend the day tending vegetable beds, learning about nutrition and trading stories about their new lives in the united States.
The International Rescue Committee initiated the
New Roots
program at Drew Gardens, a former dump site that is now a two-acre park, in 2011. During harvest season, gardeners hailing from Afghanistan, Bhutan, Cameroon, Eritrea, Tibet and elsewhere take home about a pound of fresh produce each week, including tomatoes, lettuce, radishes, carrots, eggplant, nectarines and cherries.
"Before I moved here, I thought New York was too busy to have a garden," says
Ah Lun
30, who seeded his plot with chili peppers, garlic and onions, the same vegetables he grew in his native Myanmar (also known as Burma). Indeed, the South Bronx is proving fertile ground for New Roots.
Earlier this year, New York City's Department of Transportation (DOT), which owns the site, selected the IRC from among several community and environmental groups to build a second New Roots garden on a 24,000-square-foot lot beside the Grand Concourse, a century-old boulevard that has long been a symbol of the Bronx's seesawing economic fortunes. DOT worked through the spring to ready the site for a June 2012 groundbreaking, leveling abandoned buildings, removing gas and sewer lines and
bringing in water for irrigation. Local partner organizations contributed design expertise, soil and labor.
By next summer, some 100 gardeners will be working 30 to 40 raised beds, a medicinal herb garden and an aquaponic greenhouse. A farmers market, where gardeners can sell their produce for extra income, will provide local residents with healthy, low-cost produce—an important aspect of the project, as the city has labeled the low-income neighborhood a "food desert" for its lack of supermarkets that offer fresh produce.
The New Roots program also plans to offer educational programs related to nutrition and gardening to neighboring public schools. For refugees like Ah Lun, however, the benefits of New Roots extend beyond the planting of vegetables in the earth. "Working in the garden makes me feel closer to my village and to the family I left behind in Burma," he says.
This story first appeared in the Summer 2012 issue of IRC at Work.
Give a community garden for the holidays

Photo: Donna Alberico/IRC
$60 can distribute the gardening tools, seeds and other supplies that refugees need to start a community garden that will help them put fresh food on he table and well-earned cash in their pockets. Our New Roots program helps refugees settling in the United States stay connected to the soil and the agricultural traditions they've brought from their own countries.
Give an IRC Community Garden Rescue Gift
: We will print and send a beautiful card — which includes your personalized dedication and description of how that gift helps refugees — to each gift recipient.
All online gifts matched up to $1.9 million by December 31.
No comments yet.