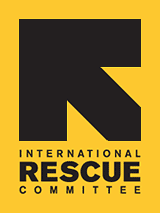 Since 1933, the IRC has provided hope and humanitarian aid to refugees and other victims of oppression and violent conflict around the world.
VOICES FROM THE FIELD
THE IRC BLOG
"This is her, the rape victim" [This Week's Voices]

March 29, 2008
By The IRC
Congo - A girl walks past a poster warning of the dangers she faces. Photo: Anna Husarska/The IRC
This week's round-up of notable quotes from the news and the Web:
"'This is her, the rape victim.' I raise my eyes and look at a Congolese woman in her 40s who is breastfeeding. Marie-Honorine, my colleague from the International Rescue Committee, a specialist in working with survivors of sexual violence, points to the Bambi-eyed 14-month-old girl at the woman's breast and says: 'No, that is the victim.'"
- IRC senior policy advisor Anna Husarska, in The Weekly Guardian, relating what it was like meeting rape survivors in the Democratic Republic of Congo who have been left to live out their days in fear and pain.
"We must seize, without delay, the strategic moment, and move decisively to build the foundations for durable peace and stability in Somalia,"
- United Nations Secretary General Ban Ki-moon in a March 21 report to the UN Security Council. The humanitarian crisis in Somalia is deteriorating dramatically while access to people in need continues to decrease, 39 aid organizations, including the IRC, warned this week in a statement issued on the eve of a UN Security Council discussion of Somalia.
"Best we can do to demonstrate solidarity with hungarian liberation forces… is to rush at once massive quantities relief supplies … we are preparing  for tragic possibility soviet recapture control of hungary, when countless escapees will flood into austria and must be ready with resources."
- IRC chairman Leo Cherne and president Angier Biddle Duke, in a cable sent from Vienna to IRC headquarters in New York in the fall of 1956. Since the end of World War II and the division of Europe into rival Soviet and Western blocs, the IRC had been aiding stateless refugees and escapees from the Soviet side of the Iron Curtain.
"I'm not a parent myself, so that first day I didn't know quite what to expect.  But neither, I think, did my two co-directors on the project, both mothers ... One thing we all seriously underestimated was just how quick and smart these girls are.  They've been way ahead of us the whole time."
- Author, photographer and women's advocate Ann Jones on working for the first time with girls on an IRC project in Sierra Leone helping women use photography to make their voices heard.
"The United States has a moral obligation to give refuge to these and other vulnerable Iraqis, including widowed women with children and the tens of thousands who put their lives on the line to work for Americans in Iraq and are in danger as a result."
- Agence France Presse quoting the IRC Commission on Iraqi Refugees' report in a dispatch about the slow U.S. response to the Iraqi refugee crisis.
No comments yet.