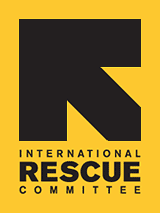 Since 1933, the IRC has provided hope and humanitarian aid to refugees and other victims of oppression and violent conflict around the world.
VOICES FROM THE FIELD
THE IRC BLOG
Highlights from the Congo

January 2, 2008
By The IRC
 Photo: Chris Earl/IRC-UK
Emma Makinson (left) is one of three teenage family members who recently joined a group of IRC-UK board members and supporters on a visit to IRC programs in the Democratic Republic of Congo. Here are some of her impressions of the trip: Now safely back from Kinshasa, I thought I'd fill you all in on the highlights from the Congo. The real bonding experience came a few days in, as the group split in two for the day. Our lot went to visit a couple of "Income Generating Activities". The two that we went to see were designed to increase the number of children in school by reducing fees, by helping schools to establish these activities in order to generate money from elsewhere; others helped on the other side, establishing activities to enable groups of parents to generate the money to pay the fees set. The first project we went to see was an abattoir, down by the port – not a good place for a vegetarian. Tears streaming down my green-tinged face, I had to be escorted back through the mud towards the car, Congolese "abattoir veterans" laughing as I passed. The next project was all set to be a much safer option--a visit to a corn mill, not far from the town. Unfortunately, life in the Congo is apparently never so simple – on the way back, our car fell straight through a wooden bridge. It was pouring with rain and any attempts to rescue the vehicle proved to be completely fruitless. Ankle deep in a delicious combination of mud and manure, we trudged back to where we hoped another car would be waiting for us, entertained by singing women and boisterous Congolese children. Dad told me, jovially, that I'd had a "vintage experience", and I like to think that I then gave him my most horrible glare. Over the next couple of days we visited an extremely vivacious women's group, for victims of gender based violence (at which point I tried to mutter an introduction in Swahili), and a couple of communities that were rebuilding their infrastructure having been damaged by conflict. I found an elected council of representatives that we met with in a church hall particularly impressive; they seemed to have made huge progress in building schools, water systems, and roads, amongst other things, in their communities, with money that was carefully distributed in such a way that the representatives could be held perfectly accountable. The following day, my Dad fell for the director of a hospital we visited. No, really. She was a Spanish nun, ran an extremely impressive maternity hospital, and was fiercely opposed to the plans that the Ministry of Health had to install in it an operating theatre (and believe me, you wouldn't want to cross her). But if I were EVER to have a baby (which I won't…ever), Kinshasa would be a pretty nice place to be, under her care.
No comments yet.