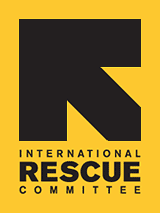 Since 1933, the IRC has provided hope and humanitarian aid to refugees and other victims of oppression and violent conflict around the world.
VOICES FROM THE FIELD
THE IRC BLOG
History Lesson - Ann Jones in Liberia

January 10, 2008
By The IRC
The Liberian lone star flag hangs on the wall of an office in the Voinjama hall of justice where men gather to register their complaints. Photo: Ann Jones
The International Rescue Committee is working with writer, photographer and long-time women's advocate Ann Jones to help women in war zones — survivors of conflict, displacement and sexual and domestic violence — use photography to make their voices heard. Ann is blogging the year-long project from West Africa. If you're just joining us, you can read her first series of posts from Cote d'Ivoire at theIRC.org/16days. The story continues in Liberia, where Ann is blogging on Mondays and Thursdays into February.   Monrovia, Liberia Some call Liberia America's stepchild.  Some say bastard child is closer to the truth.  It was founded by ex-slaves, torn from their homes and sold as commodities to the new world.  They returned to Africa—nowhere near their original homes—bringing with them some of America's worst features: elitism, discrimination, forced labor, religiosity, and a penchant for violence.  They built small scale plantations, established a nation, and lorded it over resident tribes.  Leaders of America's only African "colony" set the model for autocratic African big men, until the "aborigines" rose up against them with greedy ambitions of their own.  It makes a kind of perverse sense that a nation founded on violence should tear itself apart, but the results are terrible to see. The first African-American settlers arrived on the west coast of Africa in 1822, shipped by the American Colonization Society.  (Some ACS members sought to make amends for the slave trade by repatriating Africans; others just wanted to get rid of blacks.) The sponsors bought a 100 kilometer strip of coastal land from local tribes for $300 worth of dry goods and gunpowder.  About 5,000 freed slaves followed.  Nearly half of them died of disease, but in 1847, the survivors drew up a constitution, elected a president, and raised a simplified version of the American flag: the stripes with one lone star. They counted only themselves, the "civilized" Americo-Liberians, as citizens of the new Liberia. For more than a century—until 1980—the Americo-Liberian elite ruled the land, while customary chiefs exploited their own system of forced labor. They hoarded women—many had a hundred wives or more—and put them to work. They made young men labor for years to earn a wife and sentenced "poachers" to servitude. Western historians, who often cite this system as the source of young men's resentment and explosive violence, don't ask how women felt about it.
The bold inscription on the Liberian Ministry of Justice in Monrovia recommends "justice" for "men."  Some say the words "all men" include women.  Others point out that if authorities had meant to include women, they could have ended with the word "all"—thereby endorsing equal justice and saving money on the lettering as well. Photo: Ann Jones

   The country modestly prospered, especially during World War II when the U.S. maintained bases here, and afterward when dozens of American corporations—led by Firestone rubber—"invested" in Liberia, conniving with the governing elite to cart off the country's natural resources.  The long reign of the Americo-Liberians ended in 1980 when a group of young "aboriginal" soldiers, headed by Samuel Doe, murdered President William Tolbert and executed thirteen government ministers on a public beach, on TV. Doe continued what was by that time a "tradition" of governmental greed and corruption. International supporters vanished, leaving only the United States to contribute $500 million to the pocket of President Doe.  He built a big stadium and named it after himself.  (Damaged by war, it was rebuilt by the Chinese and reopened last November, still bearing Doe's name.) The rest is violence.  In 1990 Prince Johnson—that's his name, not his title—murdered President Doe.  Johnson had Doe's legs broken and his ear (or ears) cut off; reports differ as to whether Johnson made Doe eat his own ear or ate Doe's ear (or ears) himself.  Reports generally agree that Johnson's men then dismembered Doe and drove around Monrovia to display his body parts. 
War destroys structures—schools, hospitals, and homes like these, photographed by a Global Crescendo photographer.  In Liberia, everyone lives amid the ruins of war. Photo: Hajah Kamara

Prince Johnson didn't get to be President.  (He's a senator today, democratically elected to a nine-year term.)  Instead Charles Taylor, a charming, American-educated sociopath, assumed that position.  His forces were already rolling through the country, terrorizing civilians, raping women, murdering men, women, and children, even in refugee camps.  In 1996 Liberians elected Taylor president, perhaps reckoning (as battered women often do) that the only way to end the man's violence was to give him what he wanted.  But it didn't work. Having wrecked the country, Taylor finally abandoned it for luxurious exile in Nigeria, beyond the reach of his countrymen.  International intervention and the election in 2005 of President Ellen Johnson Sirleaf, Africa's first female president, offered hope of change. That's roughly where things stand now—tenuously balanced between hope and fear.  Real fear arises from the long mysterious absence of Prince Johnson from public life—What's he up to now?—and the public threats of his generals to assassinate President Sirleaf.  Hope, on the other hand, rests with her.  For the first time, there's a woman in charge.  One of her achievements: She requested the extradition of former president Charles Taylor, setting in motion the process that placed him this week in a courtroom in The Hague, on trial for war crimes.