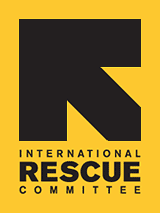 Since 1933, the IRC has provided hope and humanitarian aid to refugees and other victims of oppression and violent conflict around the world.
VOICES FROM THE FIELD
THE IRC BLOG
How to Make a Bundle - Ann Jones in Liberia

February 7, 2008
By The IRC
Preparing for the final photo show, Chocolate City photographer Margaret Wolo (left) offers a look at her latest snaps to Navanita Bhattacharya,  then GBV Coordinator for Liberia.  Navanita subsequently joined the GBV Technical Unit to become GBV Technical Advisor for West Africa. Photo: Ann Jones
The International Rescue Committee is working with women's advocate Ann Jones to help women in war zones — survivors of conflict, displacement and sexual and domestic violence — use photography to make their voices heard. Ann is blogging the year-long project from West Africa. If you're just joining us, you can read her earlier posts from Cote d'Ivoire and Liberia here. Monrovia, Liberia Our time in Liberia is coming to an end.  We return to Monrovia to plan a big two-day workshop—to culminate in the first-ever all-women's photography exhibition in Liberia.  We invite all the Global Crescendo photographers from Montserrado and Lofa Counties.  For good measure we invite a delegation from Nimba County as well.  Road conditions kept us from traveling to Nimba County to conduct the photo project, but we know the Nimba women have a lot to give and to gain from joining the discussions. On the first day, women from the three counties get together to talk about their photos—good practice for the upcoming show.  Many of the photos depict acts of violence—committed in public in the plain light of day with complete impunity.  Acts of violence intended to punish women for things they've done or force them to do things they do not want to do.  Acts of violence intended to control the lives of women. "What problems do women and girls have as a result of violence?"  Country GBV Coordinator Navanita Bhattacharya raises the question. The women make a long list.  "HIV, AIDS, other sexually transmitted diseases, excision (female genital mutilation), forced marriage, forced pregnancy, forced labor, rape, fistula, other internal injuries, broken bones, paralysis, miscarriage, stress, frustration, depression, fear, deprivation of education, exclusion from decision making, denial of choice, consignment to servitude, deprivation of health care, death.  "If the violence continues, it will finish us," photographer Patience Walker says.  "We must fight back."
During the final two-day workshop, Global Crescendo photographers and other participants worked intently on their collective agenda for social change to create a better, more peaceful Liberia. In this planning group are (left to right): photographers Kulah Barbor and Finda Saah, GBV Assistant Program Manager Esther Karnley,  and photographers Margaret Wolo and Mantina Capard. Photo: Ann Jones

The women illustrate their problems in drawings and dramatic sketches.  (Who needs cameras?)   We see wives beaten, pregnant women abandoned, girls raped, girls kept from school, girl students seduced by their teachers, pregnant girl students expelled from school, widows forced to yield their dead husband's property, married women forced to submit to their sexual "duty," young girls forcibly married, girls and women forcibly impregnated.  "Can this situation be changed?" Navanita asks.  The women shout, "Yes!" Turning to areas of great public concern, the women discuss health care, education, and the law.  They find it impossible to do so without speaking of the violence against women that underlies everything.  There is too little health care, they say. It's too expensive.  And few health care workers are trained to treat survivors of gender-based violence.  Education is thought to be the rightful province of boys.  Girls are kept from school to labor at home, or to marry.  Girls enrolled in school are forced out by the sexual predation of their teachers.  Law scarcely applies.  There's no law against domestic violence or marital rape (a wife's "duty").  Judges are incompetent or venal.  "Any man can put a flag in front of his house and call himself a judge," says one woman.  Police and magistrates regard assaults on women as unimportant.  They take bribes.  They blame the victim.  They compromise cases at the expense of the victim.  They exploit the victim, offering her a hearing in exchange for a little sex on the side.  The law serves only those with money—men. Against such obstacles, Navanita launches the dreams of women.  What do they hope for?  "We want to be safe in our homes, in our country, and that is our right," says one.  Another says, "We have a right to dream of a free, safe Liberia.  It is possible." What would they like to see in five years' time?  Vera dreams that all the ruins will be rebuilt and all the girls and boys will go to school together.  Anna hopes to walk freely in the streets, without fear of attack.  Mantina hopes that women and girls may be safe in their homes. Annie hopes that women will be self-employed.  Esther dreams that girls will be educated and taking up positions in government.

All the women dream of the day when Liberian streets will be safe for girls to be girls. Photo: Kulah Barbor

It's time to break out the flip charts and make action plans.  The women know what needs to be done.  But who will do it?  How?  And how will they know if it's working? By noon of the second day of the workshop, the women have produced finely detailed lists of answers to those questions.  Plus a timeline.  What's to be done by whom next year, next month, next week, and right now this very day.  Well, maybe they can't jail all bribe-taking magistrates today, but even to speak of it is an act of courage and self-affirmation—and a step in the right direction. The women speak of all kinds of brave, new-fangled things.  One says, "Your husband beats you, you take your case to court, your husband knows the judge, and the case is closed."  But someone else says, "If we got together all the women this happened to, we'd have a big crowd.  We could go back to court together." The women smile at the prospect.  One says, "We could sit there.  In the court. Together." Betty, from Nimba County, says:  "We are like a bundle of sticks.  If the bundle is loose, men can pluck us out, one at a time, and break us.  But a tight bundle of sticks cannot be broken." Then it is time for the grand finale—the first all women's photo exhibition in the history of Liberia.  I'll tell you about that next time.