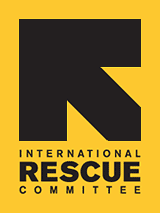 Since 1933, the IRC has provided hope and humanitarian aid to refugees and other victims of oppression and violent conflict around the world.
VOICES FROM THE FIELD
THE IRC BLOG
Keeping the family peace
A woman prepares food in the Mae La refugee camp in Thailand. Domestic violence is a rampant problem in the camp. Photo: Peter Biro.
MAE LA, Thailand -
For 23 years, Abdulkarim and his wife, Cho Cho Win, have lived in a crowded camp for Burmese refugees in northwestern Thailand. With nothing to occupy their time—and with little hope that they would be able to return home—the couple often argued and fought.

"When my husband became angry with me, I used to ignore him," Cho Cho Win recalls as she sits in her house, a bamboo and thatch hut. "The fights also affected our children. They became nervous and upset and weren't able to concentrate in school."
Cho Cho Win and Abdulkarim are among 200 couples who have participated in the Peaceful Families program designed to address domestic violence.

Photo: Peter Biro/IRC
After one fight too many, the couple decided to enroll in Peaceful Families, an IRC program that helps spouses resolve their problems by showing them how to communicate better and avoid situations that can erupt into violence.

Domestic violence is a rampant problem in refugee camps, one that is aggravated by unemployment, alcohol and drug abuse and the stress of camp life. There are nine refugee camps situated on Thailand's northwestern border with Myanmar, also known as Burma. Abdulkarim, who uses only one name, and Cho Cho Win live in the largest, Mae La, with 40,000 other inhabitants.

An IRC survey of women living in Mae La found that domestic violence was one of their biggest concerns. Women reported that it was common for men to use violence to discipline wives and children and that they were uncertain about where to turn for help.

In Mae Lae and other camps, serious crimes including rape and domestic violence are referred to the Thai criminal justice system. Crime victims as well as the accused can also go to an IRC legal assistance center for aid.

Peaceful Families is a way for married couples to head off problems before they spiral out of control. Participants attend intensive workshops where they are coached to be better listeners and to speak openly with each other.

"The training is all about breaking bad habits and changing behavior that can escalate into verbal or physical abuse," says Meghan O'Connor, coordinator of the IRC's Women's Protection and Empowerment Program in Thailand.

Over 200 married couples have taken part in Peaceful Families since it was launched three years ago, and most of them report that the program has helped lessen tension and taught them valuable communication skills.

"I pay more attention to what my husband says now," Cho Cho Win explains. "To really listen to partner is one of the most important things when you are living together."

Not surprisingly, it is more difficult to convince husbands to participate in the program. But as more men take part, they have started to see real benefits.

"Now when my wife and I have a problem, we know how to find the best solution instead of arguing about it," says Bilal, a husband who attended a recent workshop.

Abdulkarim, Cho Cho Win's husband, agrees, and has even begun telling friends and neighbors about Peaceful Families.

"When we see other couples arguing in the neighborhood, we try to explain ways for them to control their emotions and communicate better," Abdulkarim, says. "Our goal is a peaceful camp."

Mother's Day is May 13
This Mother's Day, honor a special mom in your life by giving her a symbolic Rescue Gift. You can help the IRC save lives while warming a special mother's heart. Give Now. >>