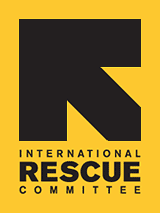 Since 1933, the IRC has provided hope and humanitarian aid to refugees and other victims of oppression and violent conflict around the world.
VOICES FROM THE FIELD
THE IRC BLOG
Kenya: Children and Women Take Center Stage

June 16, 2008
By Joanne Offer
A young boy makes a statement marching through Kigale town on the Day of the African Child. Photos: Joanne Offer/The IRC
Joanne Offer is in northern Kenya. See all her posts here. Today was great: hundreds of children marched through the streets of Kitale and literally brought the town to a standstill to mark the Day of the African Child. The children carried homemade signs promoting messages from 'stop child trafficking' to 'let a child decide', while what felt like the whole town looked on. The march ended in the Kenyatta Stadium with a series of dances, songs and moving poems. Ann, a visually-impaired 5 year-old, showed great courage as she kicked things off with a poem called 'I have a right'. And one young boy had the crowd in stitches as, totally lost in the music, he ignored his schoolteacher's choreography and improvised to his own, unique beat. We also managed to pack in a quick visit to a collection of women's groups in Geta. The women have returned there after being uprooted earlier this year by violence following Kenya's presidential elections. They now feel safe once again due to a prominent police presence, but many still live in tents while they wait to rebuild homes that were destroyed in the fighting. 
The IRC is helping women's groups come together in a peaceful setting after the electoral violence earlier this year. The International Rescue Committee has given the women's groups knitting and crochet materials. The women regularly come together to knit but at the same time also receive information from our volunteers about preventing and reporting cases of violence against women. Together, after everything they've been through, they can now share experiences, seek advice, and be referred for counseling or medical care. A small but powerful step.
No comments yet.