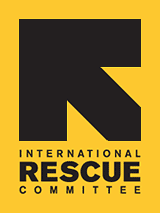 Since 1933, the IRC has provided hope and humanitarian aid to refugees and other victims of oppression and violent conflict around the world.
VOICES FROM THE FIELD
THE IRC BLOG
Kenya: Food prices hit refugees hard

June 19, 2008
By The IRC

Halima shows off the cloth she's been able to buy for her small stall thanks to an IRC grant. Photo: Joanne Offer/The IRC
Joanne Offer is blogging from Kenya. See all of her posts here. I'm now back in Nairobi after a whistle-stop tour of Kenya. The International Rescue Committee is working with refugees and their neighboring communities even here. In Eastleigh and Huruma, for example, we're helping women's groups with education classes, accessing legal or healthcare services, and setting up small businesses such as tailoring, selling rice and making injera (flatbread.)It's a tough life for these women – they live in some of the most rundown and neglected areas of town. For example, Halima and her family live in a shack made of tin sheeting and wooden planks. They have no electricity and have to buy water for drinking, cooking and washing. The IRC gave Halima a grant to start selling rice and she now has a little extra income to buy essentials such as food and school uniforms for her 3 children. She's even been able to diversify into selling cloth, but things are far from easy. As Halima says, "It's hard to do business in a place where there's so much poverty. People often ask me to give them rice and let them pay later." Unfortunately, things have been getting worse recently not better. Rising food prices mean that Halima's overheads are higher and her customers are buying less. But at least some rice is still selling – it's such a staple part of the diet here that she'll always have some customers – and being part of a women's group means that Halima has friends who can support each other in the times ahead.
No comments yet.