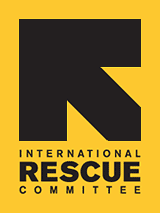 Since 1933, the IRC has provided hope and humanitarian aid to refugees and other victims of oppression and violent conflict around the world.
VOICES FROM THE FIELD
THE IRC BLOG
Kenya: Rains can't dampen World Refugee Day

June 20, 2008
By Joanne Offer
Colorful Rwandese dancers entertain the crowds at World Refugee Day in Nairobi, Kenya. Photo: The IRC
Joanne Offer is blogging from Kenya. Read all of her posts here.Despite several rain showers, today we celebrated World Refugee Day at a big outdoor event in the grounds of Nairobi University. The highlights were definitely the dance performances by refugee groups from countries like Rwanda, Burundi, Somali and Ethiopia. And it was great to see one of our women's groups there, selling their handicrafts and biscuits. (With all the long speeches at an event like this, it's always good to have something to keep the hunger pangs at bay!)
Some of the IRC team in Kenya all logo'd up ready to promote our work. Photo: Joanne Offer/The IRC This year's theme was protection, so the International Rescue Committee talked about the need for more awareness-raising around the Refugees Act here in Kenya. Country director Kellie Leeson said the 2006 Act, which confers rights on refugees, was a major step forward in protecting refugee communities. But she called for the Kenya government to release clear regulations on how to implement the complex act, "so that refugees can have their rights protected effectively and consistently across Kenya."
Kenya country director Kellie Leeson talks to a local radio journalist about our work in Kenya. Photo: Joanne Offer/The IRC The UN's High Commissioner for Refugees, Antonio Guterres, also used the day to raise awareness about the plight of refugees, in particular those from Somali. He said more must be done for their hope for "an Africa at peace". As an organization working with thousands of Somali refugees, IRC in Kenya joins the Commissioner in his plea.
No comments yet.