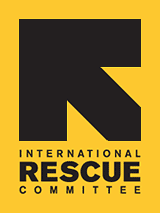 Since 1933, the IRC has provided hope and humanitarian aid to refugees and other victims of oppression and violent conflict around the world.
VOICES FROM THE FIELD
THE IRC BLOG
Life Can Change - Ann Jones in Liberia

February 11, 2008
By The IRC
Bushrod Island photographer Patience Walker snapped this photo of the market woman who told me that even after all they'd been through during the war and after, "Women can still sell fish." Photo: Patience Walker
The International Rescue Committee is working with women's advocate Ann Jones to help women in war zones — survivors of conflict, displacement and sexual and domestic violence — use photography to make their voices heard. Ann is blogging the year-long project from West Africa. If you're just joining us, you can read her earlier series of posts from Cote d'Ivoire and Liberia here. Monrovia, Liberia  Then it's showtime. The first all women's photography exhibition in the history of Liberia is getting underway. The women have arranged their photographs on the walls in two groups.  The first group of photos shows the problems we've been talking about: environmental pollution, lack of clean water, poverty, hunger, child labor, lack of affordable schools, inadequate heath care, unemployment, and raging violence against women and children. The other group of photos shows the hopes and dreams of these women.  There are photos of women attending literacy classes, women selling fish and fabrics in the market, women armed with brooms and wheelbarrows cleaning their own communities, women doing hairdressing and tie-dying and tailoring, and—most important to these women—laughing girls in uniform heading for school.  There are men in the photos too, though not many.  Some can be seen working side by side with women harvesting rice.  Three others can be seen laughing together as one of them cooks dinner.  That's Oritha's photo; she proudly titles it "Gender Equality."
In this image of a woman safeguarding her children, Topoe Village photographer Rebecca Freeman perfectly captured the spirit of strong Liberian women—the spirit of all the Global Crescendo photographers. Photo: Rebecca Freeman

Finally there's the photo of the Lofa County Superintendent of Roads mounted on her motorcycle, about to don her shimmering red helmet striped with green and gold.  The woman of the future, ready to ride. But there's a problem.  Two of the photographers are missing.  At last they arrive and explain in unsteady voices.  They've been busy with police and community leaders and the family of a girl found early this morning, raped and mutilated and drowned in a pool of wastewater where only a short time ago another girl, a teenager, was found raped and murdered.  The girl found this morning was still wearing the pretty ruffled dress she'd put on to go to church yesterday with her mother.  It was the mother's duty to tally the collection, and when she looked up, her daughter was gone.  The child was two years old.

Liberian women dream of making their country safe for schoolgirls like these, even as they investigate the rape and murder of girls in their communities.  They work for a better future for their daughters. Photo: Komassa Malay

The women's dreams of the future are eclipsed by the violent present, even as the guests invited to the photo show begin to enter the hall.  Members of local and international NGOs take their seats, along with a representatives from the Ministry of Gender.  A big delegation from IRC arrives, looking smart in bright IRC tee shirts.  Soon the hall we've rented is filled to capacity.  It really is showtime. One by one, the women rise and stand before their photographs and speak of things they believe must be changed.  It's their custom to introduce themselves by saying, "I stand here before you."  I find the practice deeply moving, emphasizing as it does the solitariness and vulnerability of the speaker—her evident and undeniable courage.  Some are beyond courageous.  They're so excited they pound their photos for emphasis and knock them right off the wall. Early in my stay in Liberia, a market woman told me that even after all the years of warfare, rape, violence, desperation, and death, "Women can still sell fish."  I could only wonder where she found that fortitude.  But now Anna rises to speak of the failed water supply and environmental pollution.  Kulah speaks of the need to educate girls, not mutilate them.  Kebeh speaks of justice for survivors of rape and abandonment.
And here they are: the Global Crescendo photographers from Lofa County. Photo: Ann Jones

Then Hajah stands up to say: "My parents never sent me to school. . . . But now I stand here before you.  IRC came and gave us cameras to take photos. I was afraid because I have not touched a camera before, but I had begged my husband to go to Voinjama to take photos. Yes, I begged him because he still has power. And he allowed me to go.  I got the camera and carried it home and sat down. My husband said, 'What is this?'  I said, 'We women, we coming together.'  He said, 'I see that camera. What can you do with it?'  I said, 'Sit down.  Let me take your picture.'  I took it and showed it to him. I said, 'You see this? You must know that women, we are able to take pictures too.'" Then Sangai rises and her voice fills the room with the song that has become the anthem of the Global Crescendo project in Liberia.  She sings:  "People, life can change.  We never knew."  All the women join her, as they've done so often during the past few weeks, swaying and clapping, harmonizing that repeated chorus.  "My life can change. I never knew."
And the Global Crescendo photographers from Montserrado County.  Photo: Ann Jones

"I used to beat my wife," Sangai sings.  "I will never beat my wife.  We never knew. A bad man can become a good man.  A good man can become a better man. We never knew." "My life can change. I never knew." "A woman can become a president, oh, woman can be a Minister. We never knew. People, oh, life can change, oh, go tell the people that life can change.  We never knew." "Our life can change.  We never knew." This is the last of Ann's posts from Liberia. Sign up here to get an e-mail alert when Ann starts blogging from her next destination.