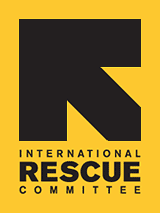 Since 1933, the IRC has provided hope and humanitarian aid to refugees and other victims of oppression and violent conflict around the world.
VOICES FROM THE FIELD
THE IRC BLOG
Lifesaving healthcare and screaming babies / Chad

October 23, 2008
By Joanne Offer
Joanne Offer is currently travelling in eastern Chad, near the Sudanese border, where the International Rescue Committee helps around 60,000 Darfuri refugees in two camps as well as local Chadian communities
. 
You can read all her posts here.
    It's an early start this morning as the convoy into Bredjing camp leaves at 7:30 AM, when the sun is already high in the sky. All IRC vehicles here travel in convoys of at least two cars because there have been incidents of robbery on the remote, sandy road into the camp. Our first stop is the IRC health post, where there's a small crowd of men, women and children sitting patiently to be seen. IRC nurse Tchoubehbe Pakore is busy treating a stream of young children who all burst into tears the minute they see me. Je suis desolé! The post itself is very basic – a structure of wooden poles covered by plastic sheeting – but it has a waiting area, a consultation room and a pharmacy. I'm just getting the grand tour when a family arrives with a very sick young boy who's lying limp in his father's arms. Nurse Pakore sees him and refers him immediately to the camp's larger IRC health center which is better-equipped to treat him.   We follow close behind and learn the little one has a severe case of pneumonia. We see him lying motionless on a bed, struggling to breathe, wheezing and with his arm hooked up to a drip. The center's supervisor Saleh Moussa tells me that parents often wait several days before bringing their children for treatment. The IRC is therefore training a group of community health workers – men and women who will go around the camp and raise awareness about the importance of seeking help immediately when a child is sick. Saleh also tells me that the main illnesses are diarrhea and respiratory problems. Perhaps this isn't surprising given the camp environment: there's only a limited amount of clean drinking water trucked into the camp every day and the sandy environment means that everything (including me) is constantly coated in dust. As I visit some of the center's consultation rooms, what Saleh says bear fruit and all the patients are complaining of diarrhea or a cough. Finally, we head to the center's feeding program for malnourished children. Time to make more babies cry! As the screaming dies down, I see IRC staff monitoring the children, giving them a medical check-up and then referring them either to the room for acutely or moderately malnourished children. Here the children get specially-nutritious food to help them recover and gain weight. As I leave, everyone is tucking in with a little encouragement from mother. It's quite an uplifting sight.
You can learn more about the IRC's programs for uprooted Darfuris and how you can help
here
.
No comments yet.