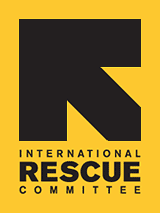 Since 1933, the IRC has provided hope and humanitarian aid to refugees and other victims of oppression and violent conflict around the world.
VOICES FROM THE FIELD
THE IRC BLOG
In Mali, a mother focuses on survival
Assetou Diallo, with her brother (far right), her daughter Mariam and nephew Mohammed.
Photo: Peter Biro/IRC
The International Rescue Committee's Peter Biro recently returned from Mali, where political turmoil and a regional drought and hunger crisis have had an especially devastating effect on children. Millions of children in Mali and the Sahel region of West Africa are believed to be physically and intellectually stunted as a result of poor diet and malnutrition over many years.
Peter recently shared one child's story with Mothering:
KATI, Mali—A week after Mohammed was born, he was abandoned by his parents and left in the care of an aunt who was already struggling to raise nine children.
"Milk is expensive and it is very hard to feed them all," the aunt, Assetou Diallo, said as she sat in front of her home, a one-room shack next to a busy dirt road on the outskirts of the Malian capital of Bamako.

This year has been particularly difficult, the 35-year-old said. The drought killed the family's modest crops, grown in a small garden next to the house, and the price of food has skyrocketed.

In June, Mohammed and malAssetou's youngest daughter Mariam, began showing signs of severe malnutrition. Although he was 18 months old, Mohammed weighed a mere 12 pounds—less than half of what a healthy baby boy his age should weigh.

The children were brought to an IRC-supported health clinic where they were immediately placed on an emergency feeding program consisting of milk and peanut paste fortified with minerals and vitamins. Mohammed and Mariam were also treated for malaria and pneumonia. After two month's treatment, the children gained 4.5 pounds.

"Their lives were in real danger," said the IRC's Dr. Abdourhamane Soumana, who helped treat the children...
No comments yet.