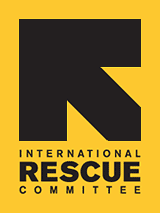 Since 1933, the IRC has provided hope and humanitarian aid to refugees and other victims of oppression and violent conflict around the world.
VOICES FROM THE FIELD
THE IRC BLOG
Myanmar: First-Hand Report from an Aid Worker

May 14, 2008
By The IRC
Photo: The IRC
A member of the International Rescue Committee's emergency distribution team talks about his day in Kyungyan Kone Township, Myanmar, delivering supplies to survivors receiving help for the first time since the cyclone struck:  More than 2,000 people died in this town and the villages surrounding it.  The survivors wear their pain on their faces. In this township, there are 97 settlements where 17,000 homeless are staying.  But everyone here is desperate.  Some of the settlements get assistance from local monasteries and authorities.  But really, they have nothing and they beg for help. Today I visited one of these settlements.  It was really bad. About three hundred people were clustered together in a shelter that gives them no protection because the roof was torn off by the cyclone.  Still, this is all that they have.  So they sit and beg for help as the rain comes pouring down over them.  The children hold out their hands. We were the first ones to come here and offer aid. The people were so grateful to see us. We talked to the monks who agreed to give our supplies to the most vulnerable ones. We gave them clothes, blankets, some pots and pans, and clean containers to collect water.  We also gave them mosquito nets, because malaria and dengue fever are very big problems here, and tarps to help them stay a little bit drier. One of our biggest concerns at the site was the sanitation.  Not one latrine here survived the storm and all the water sources are contaminated. What's worse, the hospital is in no condition to receive sick people.  It badly needs repairs and new equipment. We're definitely going to return here this week to deliver more supplies and we'll look into providing clean drinking water and latrines. To learn more: Read the latest IRC news and Myanmar blog archive. To help: Make an urgent gift to support IRC's emergency response.
No comments yet.