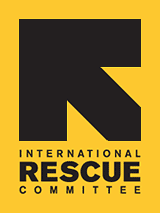 Since 1933, the IRC has provided hope and humanitarian aid to refugees and other victims of oppression and violent conflict around the world.
VOICES FROM THE FIELD
THE IRC BLOG
Noted on TV - John Edwards' Trip to Uganda with the IRC

November 16, 2007
By The IRC
Photo: Melissa Winkler/The IRC
At an event called 'Politics and Eggs Breakfast' held in Bedford, New Hampshire on November 7, and broadcast on C-SPAN's "Road to the White House," former U.S. Senator and Democratic presidential candidate John Edwards spoke about the IRC.  "About a year ago, roughly, I went to Africa to do work with the International Rescue Committee, which is this extraordinary non-profit that basically goes to the most difficult places in the world where there are huge crises occurring," Edwards said. Edwards described what he saw while on a delegation trip with the IRC to Uganda in October, 2006. "Absent the International Rescue Committee and groups like that, there would be no help for these people." It looks like C-SPAN may rebroadcast the segment at 6:30 PM ET on Sunday -- but check the C-SPAN site for the latest.
No comments yet.