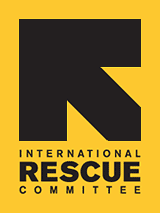 Since 1933, the IRC has provided hope and humanitarian aid to refugees and other victims of oppression and violent conflict around the world.
VOICES FROM THE FIELD
THE IRC BLOG
One man's mission to raise awareness about HIV/AIDS

February 15, 2010
By Joanne Offer
'Peter' talks to IRC staff member Lizzie Masila ahead of the World AIDS Day march in Lodwar, December 2009.
Photo: IRC
LODWAR, Kenya -
On December 1, 2009 – World AIDS Day – the International Rescue Committee organized a large march of men, women and children through Lodwar Town in northwest Kenya. The marchers blew whistles, beat drums and carried placards all to raise awareness about HIV and AIDS and what their community can do to minimize its spread. One of the marchers had a very personal story to tell, as Peter (not his real name) tested positive for HIV in 2007.
"I was in town and I happened to get sick," says Peter, 32. "I was sweating in the night, losing weight, and didn't have an appetite. I didn't know anything about HIV but the hospital suggested that I get tested."
The test proved positive, but Peter was hesitant to start treatment. He says: "It wasn't until eight months after the test that I started taking ARVs. I was afraid – how could I get these drugs that I would have to take for the rest of my life? But the IRC reassured me and told me that life was still there to live."
The march for World AIDS Day begins on the outskirts of Lodwar Town. (Photo: IRC)
Peter has responded well to the ARVs and says he feels better now than he has for many years. This is also due in part to his diet, which he has adapted to include more fruit and vegetables where possible.
Peter is now a member of a self-help group for people living with HIV/AIDS. The IRC provided the group with training on how to reduce stigma, how to live with HIV/AIDS, and how to take medication correctly.
"I know now that if I go on a journey, I need to take enough drugs with me," says Peter. "I know what kind of food to eat, and that I should avoid food with a lot of fat and cholesterol."
Peter believes that other people in his situation should come forward and talk about their experiences. "People here will listen to me because I'm not a stranger, I'm from their community," says Peter. "That makes them less afraid to hear what I have to say."
Peter's wife also tested positive for HIV, but their two sons aged three and five were negative. Today, the family live in a small village near Lodwar Town, in a mud-brick house with no piped water or power. Peter runs a small hotel, thanks to funding from an IRC partner organization, the Diocese of Lodwar. His previous employer had dismissed him when they found out he was sick.
"They said I should leave," says Peter. "They just sent me a letter and put me aside. I felt bad as I couldn't provide for my family. But now we are doing better."
Peter adds: "The most important thing for people to know is that, if you know your status, you can get help. Don't wait until you are very ill before you get tested. We must pioneer testing to help the next generation."
No comments yet.