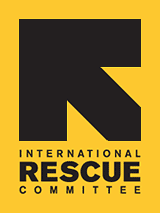 Since 1933, the IRC has provided hope and humanitarian aid to refugees and other victims of oppression and violent conflict around the world.
VOICES FROM THE FIELD
THE IRC BLOG
One Year On: Kenyans still struggling

January 15, 2009
By Joanne Offer
David, right, delivers clean drinking water via a hand pump installed by the IRC.
Photo: Joanne Offer/The IRC
Tom McKay recently travelled to northwest Kenya – one of the areas hardest hit by the violence that followed the disputed presidential election in December 2007, which left more than 1,100 people dead and displaced an estimated 350,000 more.
Walking into the small field that once housed Noigam camp for internally displaced people (IDPs), it's hard to imagine that only a few months ago almost 4,000 people lived on this tiny patch of land. Everyone has moved on now, some to transit camps and some back into their homes. In fact, the only signs that they were ever here are the latrines and water pump installed by the IRC's emergency response team at the peak of the displacement.
Though the IDPs have long since gone, the latrines and pump remain valuable commodities for the local community. I watched as children filled various containers with clean drinking water at the pump, which is protected from vandals by a 16-year-old boy named David. David supervises the pump in exchange for the right to graze cattle here. But they aren't his cattle; his family's animals were stolen during the post-election violence, forcing him to leave Lodwar in order to earn money. He now lives far from his home and family, and is paid 400 shillings ($5) a month to tend to these cattle. He hopes to save enough to return to school in Lodwar by March.
In the nearby village of Geta, people who once lived in the camp at Noigam have gradually returned to their original land, despite the fact that many of their homes were burned during the violence. I spoke with one woman named Rhoda amidst the ashes of the home she once shared with her husband, who was murdered as he tried to protect his property.
Rhoda now lives in the small hut that she formerly used as a kitchen. She's trying to save her money to rebuild, but it's difficult since she won't have any extra maize to sell because the violence prevented her from planting a full crop. Rhoda and many other villagers in Geta told us how just one strong harvest could give them the money they need to get back on their feet. Unfortunately, they lack the seeds, fertilizer and tools to properly prepare their fields. Without these basic items, the people of Geta and many Kenyans like them will struggle to restore their livelihoods. One year on, the independence they so desperately want back continues to elude them.
No comments yet.