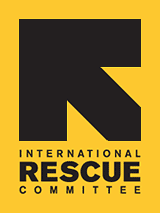 Since 1933, the IRC has provided hope and humanitarian aid to refugees and other victims of oppression and violent conflict around the world.
VOICES FROM THE FIELD
THE IRC BLOG
"Our city was under attack"

February 5, 2013
By The IRC
These women and children are among 48 family members who fled violence in Syria and now live in this cement-block structure in Mafraq, Jordan, without plumbing or electricity.
Photo: Ned Colt/IRC
"Our city was under attack and we were afraid our children would be injured or killed, so all my family and relatives fled — 48 people. We took cars, buses and vans. It took 23 days to travel the 200 miles to Jordan's border. We were very careful to avoid the fighting. Now I live with ten others in these two cement-block rooms. The space was abandoned so we moved in. Our very kind neighbor lets us string a wire to their house so that we can power these two light bulbs. We use a hole in the ground outside as a toilet and there's no refrigerator. But we don't have any money to buy fresh food anyway. It is better here than in Syria because we're safe, at least. But we lost everything, including our dignity and our privacy. All we have now is charity."
—a 59-year-old man from Homs, Syria, now a refugee in Mafraq, Jordan. Read more accounts of the Syrian crisis in our recent report:
Syria: A Regional Crisis
.
No comments yet.