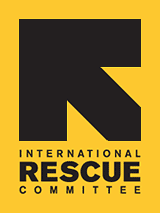 Since 1933, the IRC has provided hope and humanitarian aid to refugees and other victims of oppression and violent conflict around the world.
VOICES FROM THE FIELD
THE IRC BLOG
Photo: Made by women's hands, Kenya
Left to right: IRC women's protection and empowerment officer Ruth Kimaathi, IRC supervisor Sadia Diriye, trainee Mumina Mohamed and trainer Mariam Hassan with colorful baskets, tie-dyed dresses and other products made by Somali women living in Kenya's Dadaab refugee complex.
Photo: Sophia Jones-Mwangi/IRC
NAIROBI, Kenya -
A small group of Somali women traveled some 300 miles by road from the world's largest refugee camp to Kenya's bustling capital this week to take part in the annual Nairobi International Trade Fair. They were there to show off their handmade products — and to look for new business opportunities.
Decades of violent conflict at home in
Somalia
have left many women now living in Kenya's Dadaab refugee complex the sole providers for their families. The International Rescue Committee offers support to women in Dadaab that includes training in weaving, dressmaking, tailoring and other marketable skills to help them become financially independent. After completing counseling and a three-month training course, each woman is equipped with skills and know-how that will help her earn money to pay for her children's schooling and other things the family needs.
"Coming to Nairobi has given them a wider perspective," says the IRC's
Ruth Kimaathi
, who coaches the Somali women in turning their new skills into sustainable businesses.
New entrepreneur Mumina Mohamed, energized by her first visit to Nairobi, agrees. "I'm so happy to be here because I have learned so much. This has given us ideas to diversify."
After making the rounds at the trade fair, Mumina and the other women are already thinking about new business ventures to start back in Dadaab. One of them? A bakery.