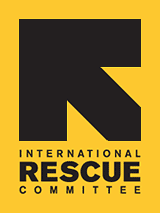 Since 1933, the IRC has provided hope and humanitarian aid to refugees and other victims of oppression and violent conflict around the world.
VOICES FROM THE FIELD
THE IRC BLOG
Sarah Wayne Callies: A chance to renew ourselves
Sarah Wayne Callies and the IRC's Annabelle Mubi (left) visit a garden planted by refugees in Thailand's Ban Mai Nai Soi camp.
Photo: Peter Biro/IRC
Actress and IRC Voice Sarah Wayne Callies is a long-time supporter of the International Rescue Committee and our work helping refugees to rebuild their lives. She shared her own family's refugee story at a benefit event for the IRC in Seattle this fall:
My grandfather was eight years old when he left his home country, fleeing the White Terror that was claiming the lives of many eastern European Jews. By the time he and his three brothers were able to leave with their mother and grandmother, the family was always short of food, crammed into a small house he remembered crawling with rats at night. They were among the starving, huddled masses who washed up on the shores of Ellis Island with very little to welcome them but a few scattered family members and a block of other refugees from the Old Country. My grandfather's mom lost her mind on the journey over, and who can blame her. So my grandfather and his brothers went into business for themselves.
It would be a decade before my grandfather would find his footing in the new country. His brother, though, had better luck. He realized that there are a few things we all have in common and one of them is food. No matter the language, no matter the religion, the government, or the climate, we all eat, and we all take pride in providing food for our families. So he started selling apples in the streets, and eventually opened a grocery store. It was his business that anchored the family for a generation as the brothers struggled to make their way in America. The grocery store still stands in midtown Manhattan, by the way. I was there a year ago, and the prices are outrageous.
I was also in Thailand about a year ago, when I visited an IRC camp along the Myanmar border. There is a women's shelter in the camp – an achievement in and of itself – and they have a garden. That garden is a place where victims of gender based violence go not just to heal, but to find it in themselves to create life and nurture it once again among the basil and tomatoes and papaya. It is a simple thing, growing food, but it is also a powerful way to quiet the voices inside you that say you are worthless and you are damaged beyond repair. The
cycles of planting
– seed, sprout, blossom, fruit, death, fallow time – can give us a chance to renew ourselves along with our harvest.
So it doesn't surprise me that when the IRC went to its resettlement clients — the newly-minted Americans who have services and assistance my grandfather never did — when the IRC asked folks what they needed that they didn't have, the answer was consistent: land to grow food. And out of those conversations grew the
New Roots
program, locally here known as the Tukwila Community Gardens. As with all of the New Roots initiatives, this garden is rooted in a belief that the human spirit, no matter the trauma or betrayal it has suffered, can grow and flourish: and that from grief, loss, and dependency can be self-reliance, strength, and grace.
2x Match: Act Now and Double Your Impact
As wars rage and disasters strike, as millions face unimaginable suffering, more than ever those in crisis need compassionate people like you. With your gift, IRC staff members across the globe can bring help and hope to one more child, one more family, and one more community at their time of greatest need.
All online gifts now matched up to $2.1 million by December 31
.
Donate now.>>
No comments yet.