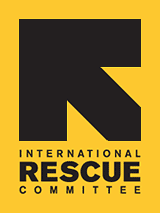 Since 1933, the IRC has provided hope and humanitarian aid to refugees and other victims of oppression and violent conflict around the world.
VOICES FROM THE FIELD
THE IRC BLOG
School Days and Radio Liberia

May 20, 2008
By emily.holland

Photo: Emily Holland/The IRC
International Rescue Committee communications officer Emily Holland is blogging her second trip to Liberia. This is Part 4. Read all her posts from her journey here. Karnplay, Liberia  I said that I would be making a special effort to reach out to Liberian youth on this trip.  Most have grown up in a war or fleeing from it.  They know little besides conflict and the processes involved with recovery.  Inheriting a new place than that which their parents lived in presents them with new opportunities, yes, but also new challenges.  Put simply, they have a lot to do---and a lot to teach us.
Today I visited one of the six schools in Karnplay that the IRC supports:  Karnplay High School.  It sits at the end of a lovely, tree-lined lane and is surrounded by thatched huts and simple mud brick houses.  Some of the houses are etched with the cell phone numbers of the inhabitants who live there. (Blog moderator's note: We blurred out some of the numerals in the photo for privacy's sake.)
 

I arrived at Karnplay High School---or Karn High---around lunchtime.  Three Liberian women were ladling out bowls of rice and cassava stew.  Between shifts of students, they chatted and knit beautiful table cloths. 
Waiting for afternoon classes to begin, I visited Karn High's enormous auditorium.  Students gather here for assemblies and to perform cultural dances.  Later, I'd later get roped into one…  Next, I toured Karn High's new library.  It was stocked with world maps, a set of encyclopedias, and African and Western classics including Things Fall Apart, Twelfth Night, and The Pony Express.  Students come here to read and write their research papers.  Soon, a card catalog system will be implemented so they can take the books home. 
Finally, it was time for classes to begin.  The seniors, who were preparing for national exams, weren't around, so I visited several classes of younger students.  Some were learning to write their capital letters and compute fractions; others, Biology and English.  In one classroom, "Remember 9/11" posters were tacked to the walls.  That was strange to see 4,500 miles away from New York City, where I live.  It also reminded me conflict isn't confined to countries like Liberia. 
That afternoon, right up the hill from Karn High, I visited the Karnplay community radio station.  I met 25 children who attend IRC-supported schools and, as an extracurricular activity, volunteer as student radio announcers.  One, named Chris, 15, is on the air many mornings and afternoons and is responsible for reading the list of guests who will appear that day, broadcasting news announcements, and managing the children's phone-in program.  What's that you ask?  "A show where local children call in to sing songs, say their ABC's, and quote Bible verses," he told me.  "Are all of them good singers, Chris?" I asked.  "No," he laughed.  When I asked him about the development going on in Karnplay, Chris reported:  "You can see that the IRC people are building a clinic and the IRC women's group is doing some projects.  And we are building a cinema." 
Blessing, 15, another youth radio announcer, reads health messages on the air after school.  Most are supplied by staff who work at the IRC-supported clinic.  Blessing describes them as, "messages about the importance of being clean and taking care of the environment and our surroundings."  This segues perfectly with Blessing's professional goal:  studying science and one day becoming a nurse. Finally, I said I'd be asking the kids about Liberian food.  The 25 I met reported their favorite things to eat were rice and "g.b." (which is made from cassava), plantains, potatoes, pineapple, mangoes, coconut, oranges, and bananas.  Local dishes they enjoy include eddoes (something like cassava), bitter balls (fruit), and palava sauce (a spicy sauce which, translated directly, means "confusion").  Other favorites?  Caterpillars and grasshoppers, which the kids called "special caterpillars and grasshoppers."  While it's unclear whether they're in season, Blessing tells me she's confident I'll like them.  Think I'm up for the challenge?