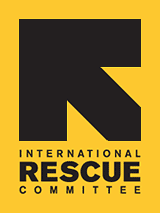 Since 1933, the IRC has provided hope and humanitarian aid to refugees and other victims of oppression and violent conflict around the world.
VOICES FROM THE FIELD
THE IRC BLOG
Thinker's Beach - Ann Jones in Liberia

January 7, 2008
By The IRC

Beautiful beaches within sight of Monrovia seem a world away from the wreckage of war. Photo: Ann Jones
The International Rescue Committee is working with women's advocate Ann Jones to help women in war zones — survivors of conflict, displacement and sexual and domestic violence — use photography to make their voices heard. Ann is blogging the year-long project from West Africa. If you're just joining us, you can read her first series of posts from Cote d'Ivoire at theIRC.org/16days. The story continues in Liberia, where Ann is posting updates and new photos on Mondays and Thursdays. Monrovia, Liberia If you read my blog during the 16 Days of Activism Against Violence Against Women (November 25-December 10), you know about the new Gender Based Violence project we call "A Global Crescendo: Voices of Women from Conflict Zones."  We lend women digital cameras and ask them to document their lives.  The photographs put in sharp focus a lot of "bad, bad things" and turn the photographers into advocates for change.  After spending six weeks in Cote d'Ivoire, I've moved next door to Liberia, the second stop on our year-long agenda. When my flight from Abidjan landed in Monrovia, I was still high on the changes bold Ivoirian women had made in so short a time.  The Cote d'Ivoire story was a tale of transformation. That sounds pretentious, but it's true. The drive from the airport to central Monrovia brought me down to earth: wretched roads, paltry markets, ruined houses, blackened shells of government buildings occupied by long-term squatters, and the sprawling home of former big man Charles Taylor bearing a message inscribed in Christmas lights, now extinguished: "Season's Greetings." When an IRC colleague invited me, I escaped to the beach. It was splendid and wild.  The pale sand.  The pale sky.  The sea the color of silver foil, crashing over a bar not far offshore.  I stepped in to the water just as a wave rolled back, sucking sand from beneath my feet.  The rip caught me and hauled me far down the shore before I found my footing again.  So much for swimming. I told my colleague I'd take a nice long walk on the beach.  "Please, not," she said.  She had warned me about the treacherous surf, and now the sand:  "Some women have been raped.  Men have guns.  Friends can do nothing."
A small street market serves squatters—mostly former soldiers—who live in the ruins of the massive building President Charles Taylor built to house the Ministry of Defense.  Photo: Ann Jones

I met a young Brit at the water's edge.  Like me he was too wary to plunge.  He said he was repairing sabotaged navigational equipment at the international airport.  He said, "We haven't finished, but you can land now." "I landed last week," I said. "Right," he said.  "You should have come by sea."  We watched the breaking waves for a long while.  And then he said, "It makes you think, doesn't it?" That was the name of the beach: Thinker's Beach.  What I thought was:  If everything is so threatening to me, here on this magnificent shore, what is life like for Liberians? For a very long time the country was washed by waves of war.  Some Liberians speak of "the war," referring to fourteen years of intermittent conflict between 1989 and 2003.  Others speak of the first world war, the second world war, and the third.  (Any war must feel like a "world" war when you're caught in the middle of it.)  The first war is called after Samuel Doe whose bloody coup in 1980 set the stage.  The second is Prince Johnson's. The third is Charles Taylor's.  Three wars—or one—it's more than enough. By the time the fighting ended in 2003, 1.4 million Liberians had been displaced within the country.  Almost a million others had fled.  In a country of 3 million people, that's one in three citizens gone.  At least 270,000 people died.  Some sources say 300,000.  That's 10 percent of the population.

These children live in the wreckage of the Liberian Broadcasting System building—without water, without toilets or latrines, without electricity—and after five years or more, without much hope.  Children of war, they have never known another life. Photo: Ann Jones.

As always in war, women were easy targets.  Lofa County, in the north, lay in the path of Charles Taylor's militia and LURD forces that opposed him.  Both sides used rape and murder as weapons of war.  A World Health Organization study in 2005 estimated that 90 percent of Liberian women suffered physical or sexual violence; three out of four were raped.  A study by the IRC and Columbia University's School of Public Health (October 2007) reported: "While the war officially ended in 2003, the war on women continued."  Well over half the women interviewed in two counties (including the capital city) had survived at least one violent physical attack during an eighteen month period in 2006-2007, years after the official end of conflict.  Well over half the women reported at least one violent sexual assault in the same period.  Seventy-two percent said their husbands had forced them to have sex against their will.  An earlier IRC study (2003) among Liberian refugees in Sierra Leone found that 75 percent of women had been sexually violated before they fled Liberia; and after, 55 percent were sexually assaulted again. For women, war is not over when it's over. Recently the CDC and UNFPA surveyed surviving Lofa County women. More than 98 percent said that during Charles Taylor's war (1999-2003) they lost their homes.  More than 90 percent lost their livelihoods.  More than 72 percent lost at least one family member. Nearly 90 percent of them survived at least one violent physical assault.  More than half of them survived at least one violent sexual assault. At least. That makes you think too.