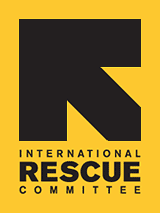 Since 1933, the IRC has provided hope and humanitarian aid to refugees and other victims of oppression and violent conflict around the world.
VOICES FROM THE FIELD
THE IRC BLOG
Washington: Speaking out against child labor

May 22, 2009
By The IRC
This update from the IRC's Michael Scharff in Uganda:
IRC child-labor expert Dorothy Jobolingo (above, second from right) recently took a break from her usual duties in Uganda to participate in high-level discussions presided over by U.S. Secretary of Labor Hilda Solis as part of the upcoming World Day Against Child Labor (June 12). Speaking at the Washington, DC, event, titled "Give Girls a Chance: End Child Labor," Jobolingo passionately testified about the prevalence of child labor in Uganda, where an estimated 1.76 million of teenagers between the ages 15 to 17 year olds, are involved in child labor. Not only is the work, usually quarrying or brick making, hard and dangerous, but Jobolingo explained that it also means that children miss the opportunity to attend school as a consequence. Jobolingo highlighted the IRC's achievements combating child labor in Uganda, thanks to a U.S. Labor Department-funded project known as Livelihoods, Education and Protection to End Child Labor (LEAP). With help from LEAP, more than 11,000 Ugandan children have been removed from exploitative labor situations and are now able to go to school instead. The program pays students' school fees and provides educational materials, such as books and school uniforms. It also helps their poverty-stricken parents find other sources of income and promotes education for all children, especially girls. The project is also working closely with local and national government institutions to lobby in favor of  laws that would make it illegal to hire child laborers. You can read more about the discussion with Secretary Solis
here
.  Or you can read more about how LEAP has helped individual children
here
.
No comments yet.