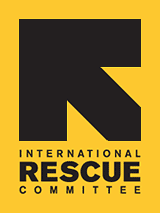 Since 1933, the IRC has provided hope and humanitarian aid to refugees and other victims of oppression and violent conflict around the world.
VOICES FROM THE FIELD
THE IRC BLOG
Why I carry a Wake Up Bag
Holding our new "Wake Up Bag," (right) which was inspired by the small purses (left) distributed to Iraqi refugee women in Jordan.
Photo: IRC
I can hardly imagine being in such danger that I would be afraid to reach out to someone for help. For many Iraqi refugee women in Jordan who have fled conflict at home, this is reality. Often without their families or a support network, these women can become easy targets for violence and abuse.

I first learned of how the International Rescue Committee (IRC) is reaching out to these women from Iman Alaqrabawi who works at the Jordan River Foundation, an IRC partner. I had the chance to interview Iman for the Wake Up Call website. She came to her interview eager to share a safe and unique way that she and the IRC are letting women know where they can get care and support.

The solution was simple and creative. Small purses are distributed with hotline phone numbers discreetly hidden inside. Using this hotline, women can contact our office for counseling and other emergency assistance to protect them from violence, without fear of discovery by their abusers. Until she explained that, I hadn't fully considered that simply tucking a brochure or pamphlet into your bag could easily put you in danger if found by the wrong person.

Inspired by this incredible tool of our work, we now offer "Wake Up Bags" to our supporters that are modeled after the purses we distribute in Jordan and symbolize the IRC's efforts to help women everywhere wake up to a better world. If you buy a Mother's Day gift of $50 or more at the IRC store by midnight tonight (ET), we will send your loved one a Wake Up Bag with a personalized Mother's Day card.

I'm already carrying my Wake Up Bag to spread awareness about the violence that women and girls face around the world. I hope you'll join me!
Posted in
Women
,
Jordan
| Tags:
refugees
,
Iraqi refugees
,
Jordan
,
domestic violence
,
Mother's Day
,
urban refugees
,
Women's Rights
,
conflict
,
Wake Up Call
,
howtohelp
,
Jordan River Foundation
No comments yet.