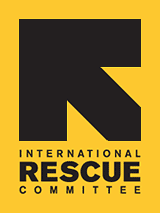 BB&T Banks on Community Service
Thanks to BB&T Medlock Creek branch, seventy elementary through high school refugee children will start their first day of school in the U.S. outfitted with brand new book bags, school supplies, and lunch boxes. BB&T also contributed other essential items for newly resettled refugee families, including, such as toothbrushes, diapers and soap.
In the coming weeks, each employee from the Medlock Creek branch will be volunteering in IRC Atlanta's English as a Second Language classroom and Resettlement Shop.
BB&T employees Azhar Farooqui and Zejna Hadzic stock the school supplies closet with IRC Atlanta staff. (Photo: Chris Ferris)
These donations of goods and time are all part of BB&T's Lighthouse Project, a corporate-wide initiative to have BB&T employees volunteer and give back to their local communities.
"It's great to see companies get involved with our refugee clients," said Amber Mull, IRC Atlanta's volunteer coordinator. "Corporate engagement leads to greater mutual understanding and potential benefits for all involved."
Assistant Vice President Azhar Farooqui chose IRC in Atlanta to be the recipient for the Medlock Creek branch, which he manages. Said Farooqui about his selection, "These are the new refugees coming to America to start a better life, and we want to help the kids have a better start at education."
With this help, they certainly will. Thanks, BB&T!