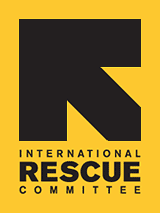 Family Mentors Launch First Social of 2012
IRC Atlanta matches volunteers in the Atlanta community to serve as mentors to a newly resettled refugee family. The volunteers visit for three or four months with their family to provide friendship, guidance and community orientation in those puzzling first weeks and months after resettlement.
Thirty to 40 family mentors are actively working with refugee families at any given time, and the experiences they have range from helping children with homework and explaining the daily mail that a parent receives to introducing some of the many sights there are to see in Atlanta, such as Centennial Olympic Park, the local library or the Zoo Atlanta.
Mentor Pam Klomp at home with her refugee family.
IRC Atlanta and the families it resettles are fortunate to have many family mentors who return year after year to provide this unique friendship to new refugee families. A group of longtime mentors is working together with IRC Atlanta staff to roll out a system of mutual support for veteran and new mentors, who may have many questions as they begin this unique relationship.
The first Family Mentor Social is scheduled for Sunday, February 26 from 3:00 to 5:00 pm at the IRC Atlanta office. Family mentors new and old, as well as those who have been pondering jumping in to this volunteer position, are welcome to attend. This will be a good opportunity to get to know other family mentors, to see the new Family Mentor website, as well as to sign up to buddy with a seasoned mentor. There will be snacks and refreshments, of course!
If you would like to attend the Family Mentor Social, please RSVP to
VolunteerAtl@rescue.org
. We look forward to seeing you there!