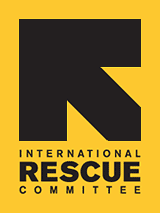 Freedom Fête 2010: A Celebration to Remember
The IRC in Atlanta's annual fundraising event, Freedom Fête 2010, held on September 11, was a gala to remember. For the third year Nelson Mullins law firm graciously donated the use of its beautiful penthouse space in Atlantic Station for the event. Its spacious balcony, with picturesque views of Atlanta, was a hit with the guests, who enjoyed mingling outdoors in beautiful weather before the program began.


CNN's Isha Sesay with Fête honoree Raeda Rammoo Fatoohi and speaker Fakhria Hussain.
This year, IRC Atlanta was honored to have CNN International anchor Isha Sesay serve as the program's Mistress of Ceremonies. She spoke eloquently of the harrowing journey that refugees undergo to survive, and of their tremendous courage. Atlanta actor and storyteller Rob Cleveland, who served as live auctioneer, provided the humor, and inspired many to give generously. One of the guests was so engaged in his bidding that he asked whether Delta Captain John Porter would be willing to add a second open cockpit RV-8 plane ride to the mix . "Sure," Captain Porter replied. "I love to fly!" Their cooperation made an already lively and successful live auction even better.

Ellen Beattie, IRC Atlanta's Executive Director, delivered the opening remarks, recognizing Raeda Rammoo Fatoohi, the 20,000th refugee resettled by IRC Atlanta and presenting her with a commemorative plaque. Fakhria Hussain, an Afghan refugee, was one of the honorary speakers for the evening. She captivated audiences with her story of coming to the United States as a teenager with only a first grade education, and going on to enter college just four years later. Her tale aligned perfectly with this year's Freedom Fête theme of "Celebrating Courage".

Throughout the evening, guests enjoyed the delectable international cuisine provided by Carole Parks Catering. Event attendees were also graced by the melodic sounds delivered by Emory University's World Music Program, whose North Indian and Gamalan ensembles played on a beautiful array of exotic gongs, drums and strings. Atlanta artist Janssen Robinson also attracted a crowd with his live performance painting, in which he created a beautiful cityscape that was auctioned off during the program.


Janssen Robinson paints on the terrace.
IRC Atlanta wishes to thank its sponsors Nelson Mullins, Majestic Properties, Southern Nights Mattress Company, eyeQ Design Studio, Global Atlanta, Flowering Events and Graphic Communications Corporation. The organization also extends a special thanks to the speakers and artists who performed, this year's host committee, and the countless donors, guests, staff, and members of the Atlanta community who made Freedom Fête 2010 an overwhelming success.
See more pictures of Freedom Fête 2010.