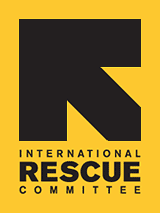 Ivette Pinilla Martinez: The Journey from Refugee to Citizen
Ivette Pinilla Martinez left her home in Colombia when she was 14 years old. Ten years later, thanks to her determination, her family's persistence, and the IRC in Atlanta's services, she is now an American citizen.
Ivette (right) with her immigration caseworker, Nodira Artikova
Photo:Lia Tsiklauri
Ivette took her oath to become a US citizen at Clarkston Community Center during the Atlanta World Refugee Day festivities. Having been a refugee herself, this was very special. Ivette and her family left Colombia for fear of their lives. Her father was a politician, and after some of his friends were killed, the family moved to Costa Rica. All except for one brother. "That was very difficult," admitted Ivette. "My other brother was killed, but [the brother she left] was studying medicine, and it would have been too hard to restart his career." She would not see him again for eight years.
In Costa Rica Ivette and her sister worked with their father at a car wash behind their apartment until he got the money together to open one of his own. Costa Rice does not require visas for Colombians, and so there were many others there. Unfortunately, some recognized Mr. Pinilla and threatened him and his family if he did not pay protection money. The family then fled to the US as refugees.
Ivette remembers IRC staff meeting her family at the airport and taking them to their new home where they ate a traditional Colombian bandeja paisa. "The [IRC] volunteer who helped us was also Colombian. He showed us how to use the train and navigate the city." IRC also helped Ivette to get her first job. "When they took us to the interview," recalls Ivette, "I didn't speak as much English but I could understand. All I told him was 'I know I can do it.' At the end he said I was hired, but I didn't know what that meant. At home my sister asked what happened and I said, 'He said I'm hired, but I don't know if I have the job.'"
Five years later, Ivette and her family applied for citizenship. They used books and CDs to practice for the Civics Test every day and in their car. At her Oath Ceremony Ivette celebrated with her family and Nodira Artikova, the IRC in Atlanta immigration case worker who helped her file for naturalization.
Now that she is a citizen, Ivette's next goal is voting and traveling back to Colombia to visit friends and family she has not seen since she fled. "I was very close to my cousin who was pregnant when we left," she said, "And now her son is ten years old." Ivette is very proud to be an American, and very grateful to those who helped her achieve this goal.