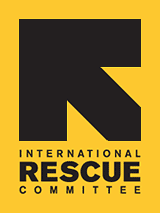 New Education Initiatives Offer Clients Additional Opportunities
In an effort to take a more holistic approach to providing refugee clients with quality educational services, the IRC in Atlanta is exploring new ways to supplement the lessons taught in the classroom by rolling out some new, creative initiatives.






















Youth Futures students at Camp Westminster
Photo by: Jan Anglade
As part of the Youth Futures program, refugee students participated in a teamwork exercise at the Camp Westminster low ropes course in Conyers, GA. This special outing was educational and skill-building in a number of different ways. It allowed for the students to work on their skills of team-building and cooperation. It also allowed students from different backgrounds to communicate with each other, in English, to overcome the obstacles of the ropes course.
Art therapy is another initiative the education department is beginning to offer to students. Many clients have experienced great trauma and hardship in their pasts and art therapy has been proven to be an effective means of processing and coping with those life events. Sandra Tate has a long history of teaching art therapy to refugees and other groups, and she is collaborating with the IRC for this program. Youth Futures students travelled to her studio in Clarkston and used her art supplies to express themselves. They then wrote down their experiences in a journal and shared their impressions as a group.
A similar program that is in its beginning stages of development is a creative writing initiative for refugee clients. This program nurtures creative expression, and has been adapted so refugee youth and adults have a safe, personal place to voice to their emotions and life experiences. For the younger clients it also creates an opportunity for them to express themselves through more open and informal writing, as opposed to their assignments given in school. It also helps to creatively develop their expressive skills in English. Student volunteers from North Druid Hills High School helped facilitate this activity for the Youth Futures refugee students.
All of these initiatives, and many others, are meant to build upon the educational lessons taught to clients in the classrooms at the IRC. Furthermore, these programs help to empower clients by giving them a platform to voice their unique identity, skills and interests. For more information about the IRC in Atlanta's education initiatives, please contact Justin Howell, Education & Learning Manager, at 678-636-8931 or justin.howell@rescue.org.