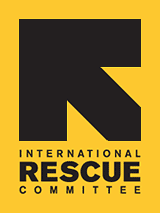 Refugees Earn Certificates and Computers
The computer lab at the IRC in Atlanta is bustling with students eager to earn a certificate of computer literacy and then, take a donated computer home with them. Over 40 refugees visit the 36-workstation computer lab each day to take advantage of IRC's popular computer literacy training program. Each student's familiarity with computers varies widely, from never having used a mouse or keyboard to those who used computers in their jobs before they became refugees.

Three recent graduates of the Computer Literacy class. Photo: Menad Abdous
One of the most popular courses is the Intermediate Level Computer Literacy class, which is offered for 10 hours each week. In this class,clients have an opportunity to earn a computer literacy certificate, which provides tangible evidence of computer skill acquisition. During self-paced instruction students become familiar with the functions of Microsoft Office suite, such as creating and editing a document, keeping a budget spreadsheet, and making a PowerPoint presentation. Most students take two to three weeks to complete the course; many attend other programs at IRC in Atlanta, such as ESL Two and Vocational ESL, while studying to earn their computer literacy certificate.
After passing the course exam, the refugee earns a certificate in Computer Literacy. In addition, the graduate is eligible to receive a refurbished computer through our on-going donations program. Since January of this year, 28 students have earned computer literacy certificates and 24 of these have received donated computers for home use.
To find out more about the computer donation program and how to get involved, contact our volunteer coordinator at
VolunteerATL@Rescue.org
or 678-636-8929.