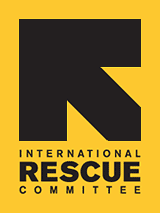 Coming Home
Beth Wilson (above center) has seen a lot as property manager for Hearthwood Apartments, but one sight that always brings a smile is the daily school bus drop-off: the brakes squeal, the doors open, and out pours a great wave of children – Bhutanese, Burmese, Afghan, Iraqi – laughing and hurrying toward the place that has become their home.
By the time refugees arrive in Charlottesville, the IRC's Logistics Coordinator Zoe Tuck (above left) has already ensured that they have a fully furnished home. For the past seven years, Hearthwood, at Michie Drive, has been a reliable housing partner. IRC clients now occupy about 70 units, or 65 percent of Hearthwood's capacity.
Wilson "is willing to make apartments available to tenants she's never met, who also don't speak English and don't have jobs when they arrive," notes Tuck. (While the IRC helps with initial payments, it is the tenant who must sign the lease and ultimately take responsibility for rent.)
It's a leap of faith, and it brings challenges. Communication is difficult. Wilson's messages to refugee tenants often take the form of written notes which have to be read and interpreted at IRC office visits. But the rewards are rich: seeing children take their first plunge in a swimming pool, watching older people work their small garden plots, helping newcomers navigate a neighborhood bursting with grocery and discount stores.
The sense of home is shared by refugees and Hearthwood staff alike. Leasing Specialist Susan Mobley (above right) has watched after the children of a single working mother from Afghanistan after school and volunteered to drive other IRC clients' children to school functions they would otherwise not be able to attend.
"We are just fortunate to be in a position where we can offer refugees their first place to live in America," Wilson says.