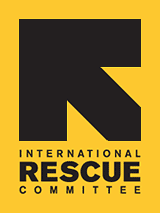 Crafts Bring Income, Build Confidence
After an exciting summer of highly successful weekend sales at arts and crafts festivals throughout Central Virginia and the Shenandoah Valley, the refugee craftswomen of A Common Thread have begun marketing their handiwork at area holiday markets. AmeriCorps member Lauren Truss (above), who serves as IRC economic empowerment coordinator, noted that the weekend market experiences have not only brought income to the craftswomen, but have also helped them practice their English and feel connected to the community.
The craft cooperative, launched nearly a year ago with a grant from Women United in Philanthropy, has grown into an enthusiastic multiethnic venture supported by a strong network of volunteers. The majority of the craftswomen are Bhutanese, with smaller numbers of Burmese (Karenni) and Congolese members. Sixteen women are core active participants in the project; over 40 women have participated in informational meetings or trainings. One third of the craft cooperative members work outside the home and 75% have school-aged children.
Their crafts currently include weaving, sewing, crocheting, jewelry, beads, knitting, paper, painting and basket weaving. In addition to refining and expanding their craft skills, the women are learning business basics, English, math, budgeting, time management and marketing and sales skills. Proceeds from their sales benefit the participants directly, with 75% of each sale going to the artisan, and the other 25% going back into their joint business to purchase craft supplies.