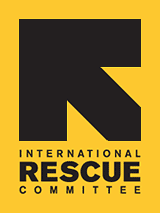 Introducing: Halloween
Many had never experienced Halloween before, and at first it all seemed very strange, but by the time 20 young refugee schoolchildren had donned costumes, got their faces painted, learned to yell "trick or treat!" and collected bags of candy, they were pretty much sold on the new tradition.
In an annual collaboration between the IRC and the University of Virginia's International Residential College, refugee children in grades K 5 were treated to an afternoon of craziness. About a dozen IRC staff and volunteers picked up the children at school and took them to the University, where student volunteers were waiting with face paints, costumes, and trick-or-treat bags.
After assembling their outfits, the children entered UVA's legendary Lawn, where they were showered with candy from residents and student clubs in an annual rite. Then they were invited to jump in ready-made leaf piles, play games, and eat pizza. But perhaps the most fun was taking part in the familiar American tradition of dumping out their bags to inventory the goodies.
IRC Employment Specialist Nemanja Cetic helped paint faces at the Halloween celebration.