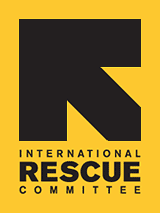 Volunteer Spotlight
Above l-r: Robert Thang Lian, Rebecca Schectman, Tial Chin Lang (front row), Tuan Dim (back row), and Lisa Draine.
One way Charlottesville residents welcome refugees is by volunteering as family mentors to help shepherd new arrivals through their first weeks in a strange new culture and community. Among those mentors are Lisa Draine and her daughter Rebecca Schectman, who were recently interviewed by IRC Resource Developer Kimberly Brown.
Q. Tell us a little bit about both of you.
Lisa: I am the Festival Manager at the LOOK3 Festival of the Photograph. I enjoy doing volunteer work in the community, as well as training for triathlons and marathons. I am the proud mother of two daughters, Rebecca (17) and Sophie (15).
Rebecca: I am 17 years old and currently a senior at Charlottesville High School, where I play the violin in the orchestra. I enjoy politics and was an intern with the Perriello Campaign last year. At school I am active in the Young Liberals Club. I tutor ESL students at CHS and am the co-President of the Culture to Culture Club. Over the past couple of years, I've become interested in International Relations, and thought the IRC would be a cool place to do volunteer work that related to my interests.
Q. How did you become interested volunteering with the IRC?
Lisa: I read Warren St. John's book Outcasts United and was inspired by his portrayal of the young refugees on a soccer team and their struggle to make new lives in a small Southern town. When Rebecca expressed an interest in volunteering with the IRC, I suggested we do it together.
Rebecca: I wanted to better acquaint myself with members of the Charlottesville community who have come here from around the world.
Q. How long have you been volunteering with the IRC?
Lisa: We trained as Family Mentors in March, 2011. In April, we were assigned to a family of Burmese refugees. The family of 2 parents and 3 children, ages 18, 14, and 8, had just arrived from Malaysia. Since that time we have planned many outings together.
Rebecca: This past summer, I was also an office intern at the IRC in the Resource Development department and in the ESL classes.
Q. Have you encountered any challenges while working with your mentees? If so, what and how did you manage to overcome them?
Lisa: Communication was certainly an obstacle in the beginning. Luckily, Robert, the 14 year old, spoke a bit of English and could translate to the other members of the family. We also gave them a calendar and wrote down the date and time of our next meeting. And we smiled a lot -- as did they!
Rebecca: Now, each time we see our family we are greeted with new phrases and better fluency. We've learned that humor is essential in connecting across language barriers.
Q. What have you and Rebecca learned from your mentoring experiences?
Lisa: When the children first visited our home they asked how many people lived here - and seemed astonished to learn that just my family of 4 lived in the house. Through their eyes I saw how much we have – and take for granted. I've been humbled as I've watched these folks who have had to overcome incredible obstacles – learning a new language, adjusting to a foreign culture, finding a job, getting around a new city – face these challenges with optimism and good humor.
Rebecca: I've learned that common values, especially the importance of family, are easy to recognize in our two cultures. We've felt lucky to be able welcome new members into the Charlottesville community and into our own circle of friends.
Q. Most memorable moment?
Lisa & Rebecca: The second time we hung out with "the fam" (what Rebecca affectionately calls the Bawi Hmun family), we took them to a park to dye Easter eggs and have an egg hunt for Chin Chin, the eight-year-old daughter in the family. Though she didn't completely understand this strange American ritual, her delight at finding the neon-colored prizes needed no language to express. That outing was thoroughly enjoyed by all of us and formed a great foundation to our mentoring relationship.