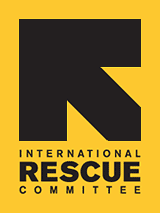 Connecting with Friends in the Community
On the night of June 16th many community partners, donors, volunteers, artists and friends of the IRC in Miami gathered at the new office to network and get recognized for their contribution to the refugee cause. As people were coming in they nibbled at the various types of food and hor d'oeuvers and also were delighted by the music of Wesner Saint-Louis who played the Congas and Jean Level Vital who played the Guitar.
The office was filled with individuals ready to open their hearts to help more refugees, that was the case of Amaury Gutierrez (Cuban artist, nominated to a Latin Grammy in 1999). When he realized that Reina Loina Tamayo was in the office he didn't think twice to give her the surprise of singing to her. Reina came from Cuba with 12 other family members including her husband and daughter. They are the family of the Cuban human rights activist Orlando Zapata Tamayo who was also a political prisoner. He died in Havana after enduring a long hunger strike. The IRC is resettling them here in Miami as efficiently as possible and supporting them throughout this difficult process.

To finalize the evening, awards were distributed to volunteers Sandra Ojeda, Ray Alonso, Patty Valdes, Andres Salazar, Alexandra Corazza, Ronald Starkman, Ignacio Boladares, Josie Perez Caballero, Fabio Bermudez, Daniela Denis, Claudia Larripa, Ambar Mejia, Meredith Spratt, Regina Bernadin, IRC @ FIU, Alex Barzaga; artists Amaury Gutierrez, Carlos Manuel, Ivan Galindo, Maria Lourdes; donors Paco's Paladar, Palacio de los Jugos, Medical Service Center of Florida, Serafin Blanco, South Florida Institute of Technology, CAI International, Solair Group, Simply Healthcare, Ideal & Universal Medical Centers, El Dorado Furniture and media outlets such as Spanish Broadcasting Systems and Ivan Taylor from Telemundo.

"I would like to thank those that were able to attend our event and for the continued support you have extended to the IRC and to the refugees we serve", expressed Suzy Cop (Executive Director).