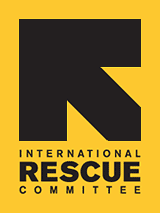 A Day of Service
As part of the national Martin Luther King day of Service, the IRC in New York's Refugee Youth Program was invited to participate in a joint service learning project organized by NY Cares, AMEX and Delta this year.

The event was held at PS 636K Elementary School in the Bushwick/Bedford-Stuyvesant section of Brooklyn. While volunteers were completing a variety of projects throughout the school, NY Cares asked the IRC to lead the day's educational component. Elizabeth Demchak, Education Services Officer for the Refugee Youth Program, and 3 Leaders-in-Training (LIT) students led an hour long workshop for approximately 25 PS 636K students on what it means to be a refugee youth in New York City. Helen, one of the LIT panelists, was surprised at the personal connection students were able to make to their own lives. "Usually students ask us a lot of questions about what it is like to be a refugee; this time, they were really making a connection between our experience and stories they were hearing from their parents".

As part of the LIT Program, refugee youth are engaged in creative and dynamic learning models which include: group projects, public speaking, advocacy initiatives as well as community service opportunities. This year's Martin Luther King day participation was the perfect platform for them to shine. When asked about her thoughts on the workshop, Elizabeth answered, "theLeaders in Training did well adjusting to a younger audience and the elementary students were extremely attentive and engaged".

On behalf of the IRC in New York, we would like to extend a heartfelt thank you to Samara Berger from NY Cares for organizing such a wonderful event and allowing our students to share their experiences with such a receptive audience.