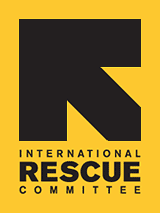 Chopping Onions is a Universal Skill
"Raise your hand if you like to eat." All hands go up. "Okay, now raise your hands if you are a good cook." Fewer hands.

One ingredient of refugee cultural orientation and English classes is to introduce America's expansive food scene. It's big, healthy and not-so-healthy, fresh but also fried, full of celebrity, and in-your-face from subway snackers to street carts. Navigating New York City's food culture can be challenging.

And it wouldn't be much fun to just talk about food and study vocabulary. So in June, the ESL classes learned to read and write a recipe, examined measuring spoons, discussed frying versus boiling, prepared recipes in crockpots, and ate their results. They discussed favorite recipes from their home countries and prepared to learn about what Americans eat.

As the classroom tables filled with groceries, the refugees grabbed knives. Makaprie chopped onions and Xu pulled the skin off chickens. Ingitt learned how to open pull-top canned beans while Gulchera sliced zucchini. There were no right and wrong methods. They demonstrated international kitchen skills learned in Sierra Leone, Burma, Afghanistan, China, Pakistan, Congo, Indonesia, Sudan and Guinea. As they worked, the refugees chatted away in English, their common language.

When it was time for lunch, Parveen dished up Chicken Cacciatore and Esther served Three-Bean Vegetarian Chili. Pasi and Pasang shared homemade radish pickles and rice pudding, specialties from Bhutan. It was a delicious meal eaten communally around the classroom tables. Then each refugee took home a new crockpot.

Over the summer the refugees will be paying close attention to exactly how they prepare their favorite home country cuisine – listing ingredients, measuring amounts and writing recipe directions to eventually share with each other. They'll talk in English about food customs here and at home. And soon the Afghans will be preparing Chinese food and the Guineans will eat Bhutanese food just like happens millions of times daily in New York City.